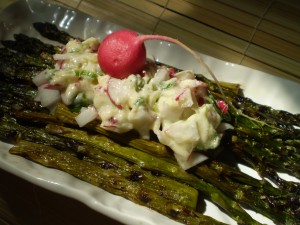 Yield: 4 servings (you'll have a bit of extra butter)
A gift of garden fresh asparagus from my husband's colleague, Freddie Stant, inspired this dish.  Be prepared for a new late spring favorite!
I knew I wanted to grill the asparagus and I knew I wanted something special on top, but that special something eluded me until I thought of the simplest and most elegant appetizer:  radishes spread with fresh creamy butter and a garnish of sea salt.  Perfect!
I simply mashed the vegan butter with the back of a fork and folded in finely diced radish and thinly sliced spring onion.  Because the butter I use is already salted, I went easy on the sea salt.  Then I dolloped the butter-vegetable mixture on the warm asparagus, allowing it to just barely start to melt.
Oh my goodness, this dish is amazing!
Vegan Spring Onion-Radish Butter:
1/4 cup vegan butter (I like Earth Balance), if too firm to mash, allow to warm slightly at room temperature
1/4 cup thinly sliced spring onion
1/3 cup thinly sliced and then diced radish (about 3)
Grilled Asparagus:
1 pound of asparagus, rinsed, drained and trimmed
1 tablespoon of olive oil
Sea salt (consider hand-grated pink Himalayan salt for the garnish)
Optional veggie garnish: 1 plump radish
In a medium-size bowl, mash butter with the back of a fork and gently fold in onion and radish until well combined.  Set aside.  Spray a seasoned grill pan with non-stick spray–or brush with olive oil–and preheat over medium-high.  In a large bowl or shallow pan, toss asparagus with olive oil and season lightly with sea salt.  Grill asparagus in one layer for approximately 8 minutes on each side or until lightly charred and crisp-tender.  Grill in two batches, if necessary, keeping first batch warm in the oven until second batch is finished cooking.  Place asparagus on a serving platter, top with butter mixture, sprinkle lightly with sea salt (hand-grated pink Himalayan salt would be fabulous!), top with optional whole radish, and serve immediately.  Store any leftover butter in an airtight container in the refrigerator.
Note: this brand new recipe isn't in my just-published cookbook, but there are 150+ similarly fresh, beautiful, and seasonal dishes you and yours will love.