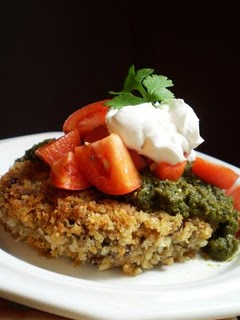 Yield: 8 appetizer servings of 1 small cake per person, or 4 main dish servings of 1 large or 2 small cakes per person
At a restaurant recently, my friend Katherine ordered grit cakes over greens. The greens were exceptional, but I had to also have a tiny taste of one of the cakes as "research." They were very creamy–loaded with cheese–with a crispy exterior, but not particularly flavorful. Still, that did it: I had a craving for vegan grit cakes and a mission to make them tastier.
Not long after, I read a recipe for mashed plantains and, suddenly, I knew that my next experiment would be grit and black bean cakes with mashed plantains. I made a mess out of the latter, turning them into tough little pieces of leather–dog chews–because I roasted them too high and too long. I'll post my tasty redux soon. But, in the meantime, I wanted to post the cakes, as they are sensational. Pressing panko bread crumbs directly into the cakes–how did we function previously without these crispiest of crumbs?–gives them a beautifully crunchy crust without any other binder or batter.
Grits are often served with greens, so I wanted to create a twist; hence, the green salsa. It could scarcely be fresher, healthier or more perfectly married to the cakes. Both the cakes and the sauce took quite a bit of tinkering to get the flavor and balance just right, but I loved the result and trust you will too. They're best served immediately after making, but would probably reheat well in the oven at 350 degrees for a few minutes. Heating them in the microwave renders them a little soft, but certainly still edible.
1 tablespoon olive oil
1/2 cup peeled and diced onion (I used red onion)
2 cloves garlic, peeled and minced
pinch salt
2 1/2 cups water
1 cup quick-cooking grits
2 tablespoons nutritional yeast
1/2 teaspoon ground cumin
1/2 teaspoon sweet paprika
1/4 teaspoon ground coriander
sea salt and freshly ground pepper to taste
1 can black beans, rinsed, drained and coarsely mashed with a potato masher (not a food processor)
1 cup panko bread crumbs placed into a shallow bowl
canola oil (1/4″ deep in a large cast iron skillet)
Salsa Verde (below)
Recommended Garnishes: chopped fresh tomato, a dollop of vegan sour cream and a sprig of fresh cilantro for each serving
In a medium saucepan over medium-high, heat oil to shimmering. Add onion and garlic and saute until very soft and starting to turn golden. Add water and bring to a gentle boil. Stir in grits and next 5 ingredients and simmer, stirring very frequently, for 5-7 minutes or until water is evaporated and grits no longer taste raw. Remove from heat and spoon into a bowl. Stir in mashed beans until well incorporated. Cool to room temperature or ever-so-slightly warmer. The cakes are especially easy to handle if you make the smaller version as described below, though I made the larger ones for the photo and they handled beautifully. (Note: I haven't tried chilling the mixture. I'm not sure if the cakes would get warm enough in the center, but try it if you like and let me know how it works.) While mixture cools make Salsa Verde (below).
When ready to saute the cakes, heat the canola oil in a large skillet over medium-high. Meanwhile, shape cakes using either one or two scant ice cream scoops of the grits and black bean mixture per cake. Shape each cake into a patty in your palm and then dredge in panko bread crumbs, carefully turning to coat both sides. Place into oil and cook 2-3 minutes per side. Remove cakes to a paper towel-lined plate or tray to absorb any excess oil. Keep warm in oven while you cook the remaining cakes. If cooking the cakes in batches, use a spatula to try to remove any bread crumbs from the oil in the skillet, as they are likely to burn if allowed to remain in the oil during the cooking of more than one batch. Serve warm with Salsa Verde and garnish as desired.
Salsa Verde:
3 large tomatillos halved, papery skin removed (slightly larger than a golf ball; if tomatillos aren't available, use a medium green tomato)
.66 ounce package fresh cilantro, stems and all
3 ounces fresh baby spinach
Optional: a tiny bit of a hot green chili (seeds and membrane removed)
1 large shallot, peeled and halved (about the size of a golf ball)
2 large cloves garlic
1/2 teaspoon vegetable bouillon or 1/2 of one extra-large cube
1/2 teaspoon onion powder
1/2 teaspoon chili powder (Ancho is particularly good)
1 tablespoon maple syrup
1 teaspoon balsamic vinegar
1/2 teaspoon lime juice
zest of one half of a lime
sea salt and freshly ground black pepper to taste
Place all ingredients into the bowl of a food processor fitted with a metal blade and process until smooth. Taste and adjust seasoning if necessary. Heat gently in a small saucepan over medium heat or in the microwave in a microwave-safe bowl for a couple of minutes.