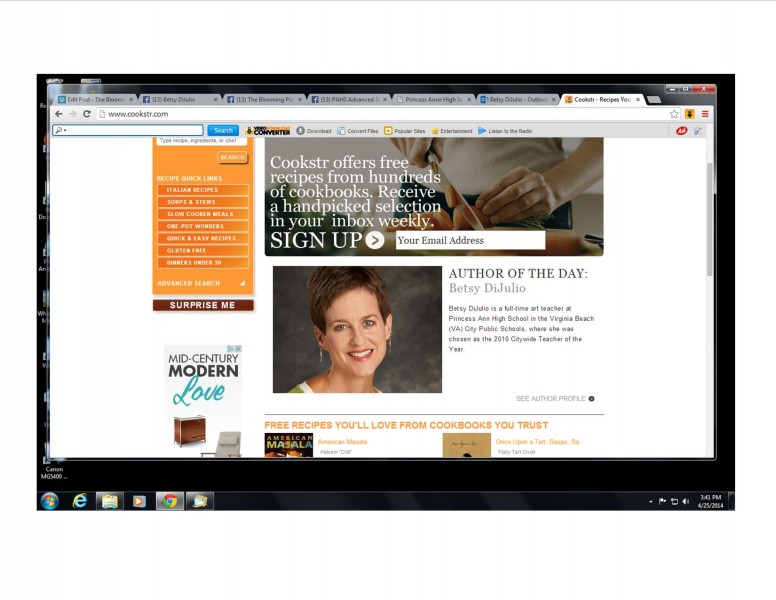 It is my distinct pleasure to be the "Author of the Day"  for the 3rd time on  Cookstr, "The World's #1 Collection of Cookbook Recipes Online."  Once again,  I am so grateful and humbled!
Please visit their home page where, as they told me, "…your name and photo will be the first thing our visitors see when they click onto the site." On a continual loop  inside the box are features like "Top Picks," "Recipe of the Day," and "Author of the Day."  If you don't see it right away and have time to wait just a minute, me and my recipe for Sassy Springtime Rolls will come back around!
Cookstr was founded in New York City in 2008 by Will Schwalbe, together with Katie Workman, Art Chang and the Tipping Point Partners team. The Author of Send,Will left his job as SVP and Editor in Chief of Hyperion Books to found Cookstr.
The organization's stated mission is to:
"…organize the world's best cookbooks and recipes and make them universally accessible.
We are setting the standard for innovation in the delivery of 100% trusted, tested, recipes to home cooks around the world. Our online recipe library offers thousands of recipes by hundreds of the top chefs and cookbook authors, that are free for everyone on Cookstr.com. This year alone, Cookstr.com powered recipe searches in over 20,000 cities and 200 countries!"
Here are a few additional reasons to visit Cookstr besides sharing in my 15 minutes, or rather 24 hours, of fame:
Search and browse THOUSANDS of recipes from cookbooks, all with photos.
Visit the iBooks library.
Access the profiles, with photos, of hundreds of top authors, including celebrity chefs.
And, my favorite feature:  access nutritional information for EVERY recipe and search recipes by dietary considerations
By signing up with Cookstr, for free of course, you will receive a free, handpicked selection of recipes in your inbox weekly; be able to save, share and comment on your favorite recipes in My Cookstr; and get updates on new Cookstr features and tools.
Cookstr really is creating "meaningful experiences around food, and support(ing) healthy lifestyles."  Let's all be a part!
The warmest of thanks to Cookstr and to all of you for your support!