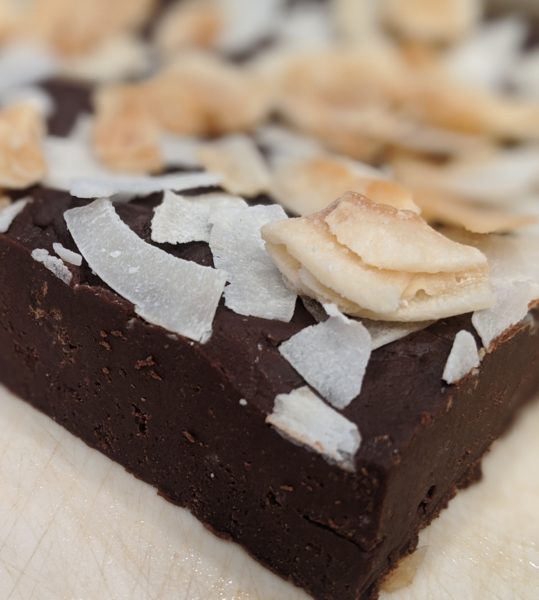 Best Chocolate Fudge…Ever
One of my friends to whom I gifted this fudge as a Happy New Years "happy" called it a "confection of perfection." She webt on to say that "after one tiny taste, the whole body knows something wonderful is happening."
I made this version with the only powdered sugar I happened to have on hand, which was Swerve with an unheard-of zero calories. It truly lives up to its Keto claim of tasting and behaving in virtually identical ways to the real stuff. I did find the aroma was a bit different from regular powdered sugar, but when combined with the assertively flavored ingredients in this fudge, I could barely detect the difference, though t might be ever so slightly more tangy than regular powdered sugar. The texture was also more like powdered soy milk, but it behaved like powdered sugar as I mixed it into the other ingredients.
Regardless of which sugar you make it with, this fudge is extremely versatile. Change the flavor by simply substituting a different extract, say peppermint, almond, maple, coffee, or whatever your heart desires. Then choose a complimentary topping.
1/2 cup full fat coconut milk
6 ounces regular chocolate chips and 6 ounces dark or extra dark
2 tablespoons coconut oil or vegan butter
1/2 cup cocoa powder
2 cups powdered sugar or Swerve powdered sugar substitute
1/2 teaspoon sea salt if not using salted vegan butter
1 teaspoon vanilla extract
1/2 teaspoon flavoring of your choice, either additional vanilla or almond, maple, peppermint, rum, etc.
1 tablespoon liqueur of your choice (I used Bailey's Almande for this)
Topping: 1/2 cup shaved coconut (I used plain and toasted); sliced almonds or other slivered, sliced or chopped nuts (I was out of sliced almonds or I would have used them to complement the Almande); crushed peppermint; dried fruit; sprinkles, etc.
Lightly oil an 8-inch square pan. Place a wide strip of parchment paper down the side, across the bottom, and up the other side, allowing the ends to extend above the rim of the pan, and oil again for ease of removal. Heat coconut milk in microwave or on top of stove. Add chocolate and whisk until completely melted. Return to heat or microwave for a few seconds if chocolate does not melt completely. Remove from heat and whisk in remaining ingredients until all ingredients are completely incorporated. Using a spoon, dollop the mixture into prepared pan and use fingers to pat out evenly. Press garnish gently into the surface. If cutting and serving right away, place, covered, in freezer for about 30 minutes. If not, cover and refrigerate until serving.
vegan #veganrecipes #veganfoodshare #veganfoodporn #plantbased #plantbasedrecipes #plantbasedfoodshare #plantbasedfoodporn #veganfudge #veganchocolate #veganholiday