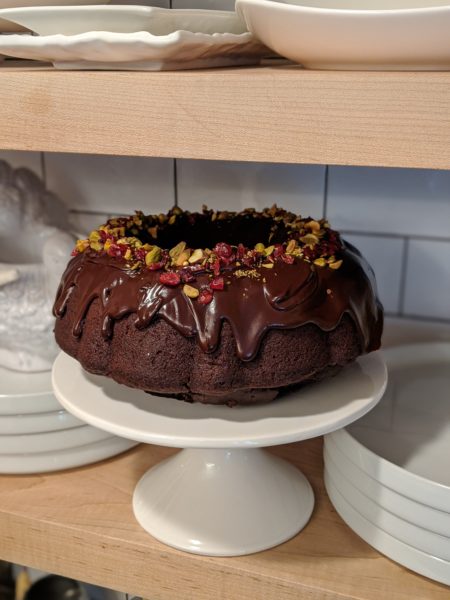 I baked two "fancy" cakes for holiday gifts, but nothing for us…until now! I wanted to develop a Chocolate-Cranberry Bundt Cake using fresh cranberries, but evidently they are seasonal in our area, and I didn't want anyone to be limited to when they are able to make the cake. But I didn't want that quick bread texture of dried cranberries in a batter. So I pumped them in heated liqueur. Perfection!
However, if you avoid alcohol, feel free to soak the dried cranberries in cranberry juice, add it to the batter, brush the cake with it, and use juice in place of the liqueur in the ganache too.
This is a simple, well-behaved cake that is beautiful to behold and delicious to devour.
Chocolate-Cranberry Bundt Cake
3 cups flour (I use white whole-wheat for everything) 1 cup natural sugar
3/4 cup cocoa powder
2 teaspoons baking soda
1 teaspoon sea salt
1 teaspoon cinnamon or pumpkin pie spice
1/2 cup olive oil
1 cup non-dairy milk
1 cup strong coffee. 2 to 4 tablespoons Creme de Cocoa or Cranberry Liqueur
1 teaspoon vanilla
1 cup dried cranberries covered in 1/2 cup Creme de Cocoa or Cranberry Liqueur and heated 1 minute in microwave
2 tablespoons Creme de Cocoa or Cranberry Liqueur for brushing cooled cake
Chocolate-Cranberry Ganache
Garnish: 1/4 cup each diced pistachios and dried cranberries
Spray 10-inch Bundt pan with nonstick baking spray line Baker's Joy or grease and flour the pan. In large mixing bowl, whisk together dry ingredients. Make a well in center and add all liquid ingredients except macerated cranberries. Whisk together until completely combined. Stir in macerated cranberries. Transfer to prepared pan and gently smooth top. Bake 35 to 40 minutes or just until a wooden pick inserted in the center comes out clean. Do not overbake or cake will be dry. Cool 10 minutes, invert onto wire rack, and cool completely covered with a dish towel. Drizzle with Chocolate-Cranberry Ganache and sprinkle with chopped pistachios and dried cranberries.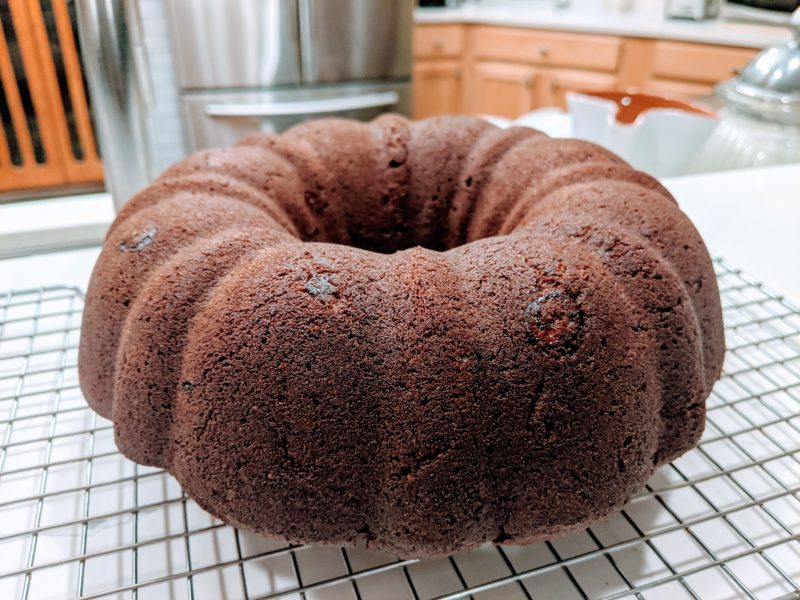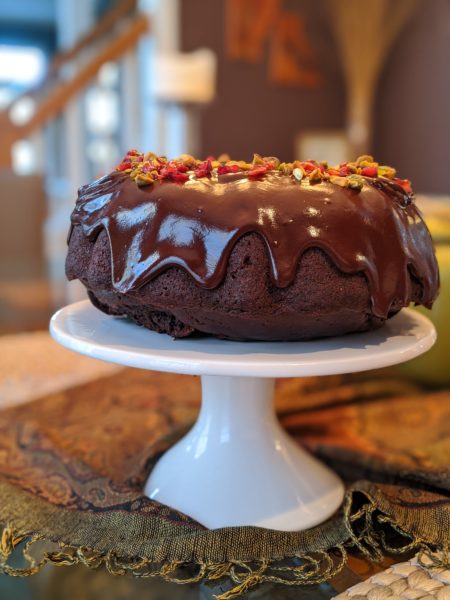 Chocolate-Cranberry Ganache
1/2 cup non-dairy creamer
3 tablespoons Cranberry Liqueur
3 tablespoons natural sugar (use only if creamer is unsweetened)
1 tablespoon vegan butter
3/4 cup vegan chocolate chips or chunks
Heat all ingredients except chips in microwave or in a small saucepan on top of stove. Remove from heat and whisk in chips or chunks until melted and smooth.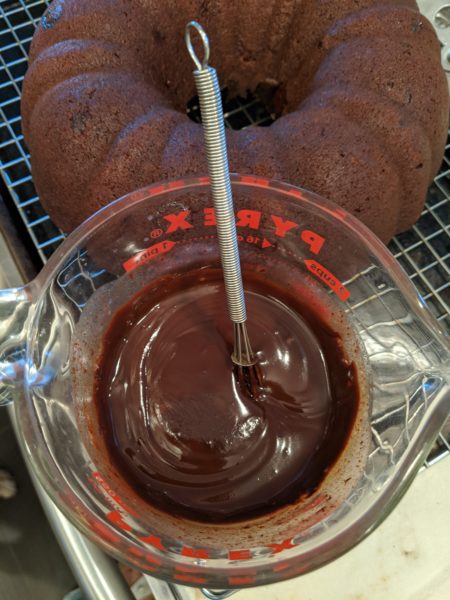 #vegan #veganrecipes #veganfoodshare #veganfoodporn #plantbased #plantbasedrecipes #plantbasedfoodshare #plantbasedfoodporn #veganchocolatecake #plantbasedchocolatecake #veganchocolatecranberrycake #plantbasedchocolatecranberrycake