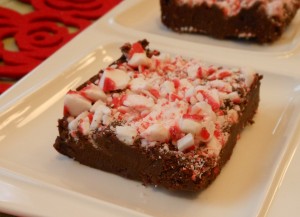 This is about the most festive–and tastiest, not to mention easiest–candy going!   Peppermint Fudge is so nice to have on hand in the fridge when friends and family stop by.  And it looks so beautiful on the fanciest of tables.  But, once the mixture is chilled, I'm guessing–though I've not tried it yet–you could roll the mixture in little balls and then into very finely crushed peppermint for an even more formal truffle.
What I have done when I was in a rush is add just a drop of peppermint extract to the chocolate mixture, forgo the peppermint topping and stand some peppermints up in a pretty glass next to the platter of fudge.
This year, I went to three stores and could not find those "chalky"  peppermint sticks (not the slick ones), but I needed to run into the Dollar Tree for a few things and there they were at the checkout.  So, if you have a Dollar Tree in your area, check there.
Cut the pieces small, this is some very rich fudge!  The secret?  (Vegan) coconut cream (available with cocktail mixers in the grocery store) replaces non-vegan condensed milk!  And I use a mixture of both melted vegan chocolate and cocoa.  Yowza!