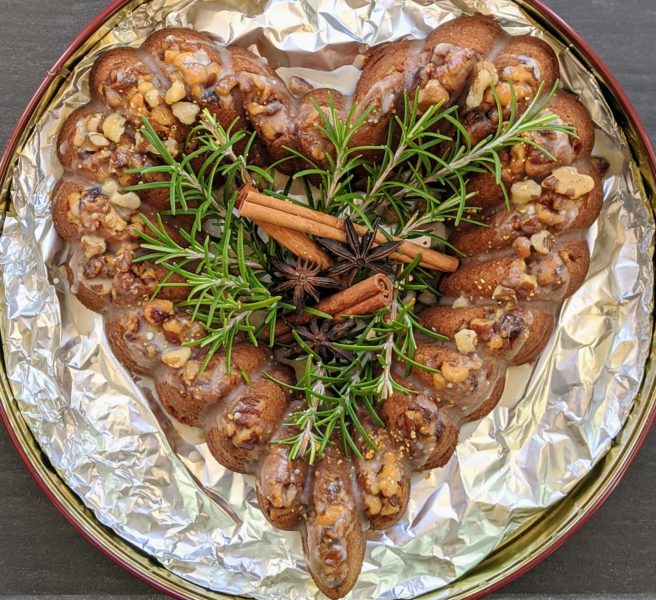 My dear friend Sharon lost her cherished father about a year ago preceded by her mother. Holidays are always nostalgic and a bit bittersweet following loss.
Her father's favorite cake was an orange black walnut. I have no idea how it was made, whether it was a pound cake, bundt cake, or layer cake, or whether it was frosted. She has mentioned it several times and I'm sure I asked, yet I don't remember. It certainly wasn't plant-based. But it is now!
Last night, I created my own version with fresh orange juice, black walnuts, and black walnut bitters both in the batter and in the glaze. Since it is December, I decided to decorate it with a woodsy theme using Rosemary, cinnamon sticks, and star anise.
Sharon said it was the nicest thing anybody had ever done. I'm sure not, as she is well-loved with legions of friends, but it gave me great joy, I have a fun new recipe, and she loved it.
Orange-Black Walnut Cake
1/2 cup chopped black walnuts
1 1/2 cups flour
3/4 cup granulated sugar
2 tablespoons flaxseed meal
2 teaspoons baking powder
3/4 teaspoon salt
1 cup non-dairy milk
10 tablespoons vegetable oil
Juice of 1.5 medium oranges
Zest of 1 medium orange
1 to 2 tablespoons black walnut bitters
CreamCheese Orange-Black Walnut Glaze (recipe follows)
Cream Cheese Orange-Black Walnut Glaze
4 ounces vegan cream cheese, softened
2 tablespoons vegan butter, softened
Juice of 1/2 medium orange
2 cups powdered sugar
1 tablespoon black walnut bitters
1/2 cup black walnuts
Decorations: rosemary, cinnamon sticks, star anise, Mandarin oranges segments, and the like.
Grease and flour a bundt pan or spray with Baker's Joy. Sprinkle bottom of pan with the 1/2 cup of black walnuts. Place all dry cake ingredients in a large mixing bowl and whisk together. Make a well in center, add wet ingredients, and whisk together. Transfer batter to prepared pan and bake 40 minutes or until a wooden pick inserted in the center comes out clean. Cool 10 to 15 minutes in pan and then invert onto wire rack to cool completely.
Make glaze: Place all glaze ingredients except nuts in a medium bowl and whisk until smooth. Decorate cake as desired with rosemary, cinnamon sticks, star anise, and, if desired, Mandarin orange segments. Spoon desired amount over cake. Stir nuts into remaining frosting and spoon additional glaze over each slice as it is served.
vegan #veganrecipes #veganfoodshare #veganfoodporn #plantbased #plantbasedrecipes #plantbasedfoodshare #plantbasedfoodporn #vegancake #plantbasedcake #veganholiday #plantbasedholiday