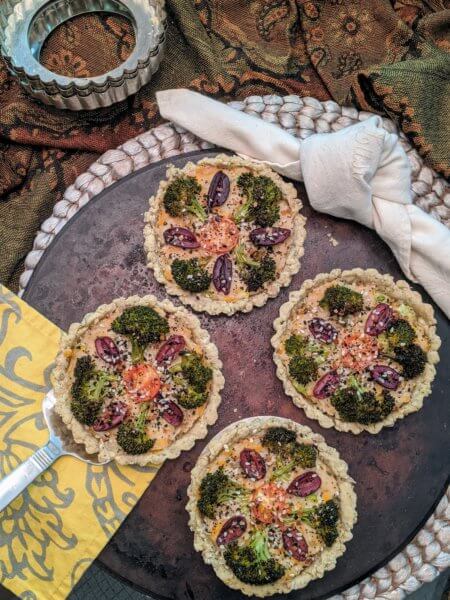 Yield: 4-5″ tarts
These delicious and simple to prepare tarts have some surprising ingredients. From Tahiti oil and Prosecco in place of ice water in the crust to kalamata olive juice in the filling, they are marvels of flavor and texture. No one will have any idea how quickly they go together.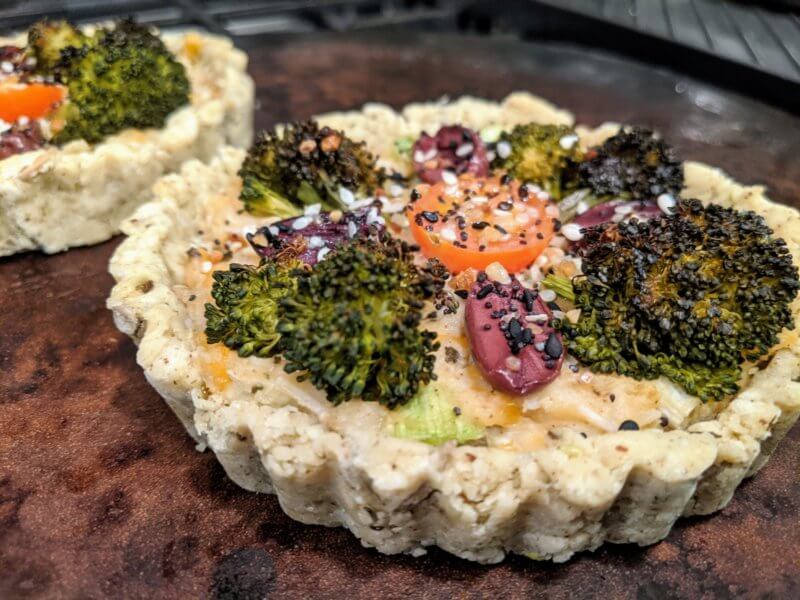 4 Tahini-Zataar Tart Crusts (recipe follows)
1/2 cup cup of your favorite white creamy base (I use my mayo, which is processed tofu, lemon juice or vinegar, garlic and onion powder, and both sea and black salt; but vegan cream cheese, soaked and processed cashews, etc. will work great as long as it is creamy and has some body)
1 tablespoon softened tahini
Optional: 1 teaspoon or more kalamata olive juice
1/2 cup shredded vegan mozzarella
1/2 cup shredded vegan Parmesan
2 thinly sliced green onions, that's green and white parts
1/2 teaspoon Zataar, or more to taste
1/2 teaspoon Greek seasoning
Pinch sea salt, if needed
2 halved cherry tomatoes
8 pitted kalamata olives, halved
16 roasted broccoli florets, quartered artichoke hearts, or whatever you like
Everything Bagel Seasoning
In a medium bowl, combine all ingredients, except olives, vegetables, and Everything Bagel Seasoning with a fork and divide among tart crusts, spreading gently to edges. Top with olives and vegetables in a decorative pattern, sprinkle with Everything Bagel Seasoning, and bake in 400 degree oven for 10 to 12 minutes. Serve as soon as they are cool enough to remove from the tart pans.
Tahini-Zataar Press-In Crust
3/4 cup flour
2 tablespoons roasted and lightly salted sunflower seeds
1 teaspoon sugar
1/2 teaspoon Zataar or to taste
2 tablespoons vegetable oil
1 tablespoon Tahini oil (floats at top of jar) or another tablespoon vegetable oil
2 tablespoons Prosecco or ice water
2 or more tablespoons unsweetened soymilk as needed
Preheat oven to 400 degrees. In medium bowl, combine dry ingredients. Make a well in center, add wet ingredients, and blend with fork and/or fingers until crumbly. A little pressed together in your fingers should hold together. Divide among 4-5″ tart pans and press evenly on bottom and sides. Flour fingers if necessary to prevent sticking. Dock or prick bottom and sides and bake 10-12 minutes or until barely golden brown. Leave oven on while you prepare filling.
#vegan #veganrecipes #veganfoodshare #veganfoodporn #plantbased #plantbasedrecipes #plantbasedfoodshare #plantbasedfoodporn #vegansavorytarts #plantbasedsavorytarts #veganzataartarts #plantbasedzataartarts