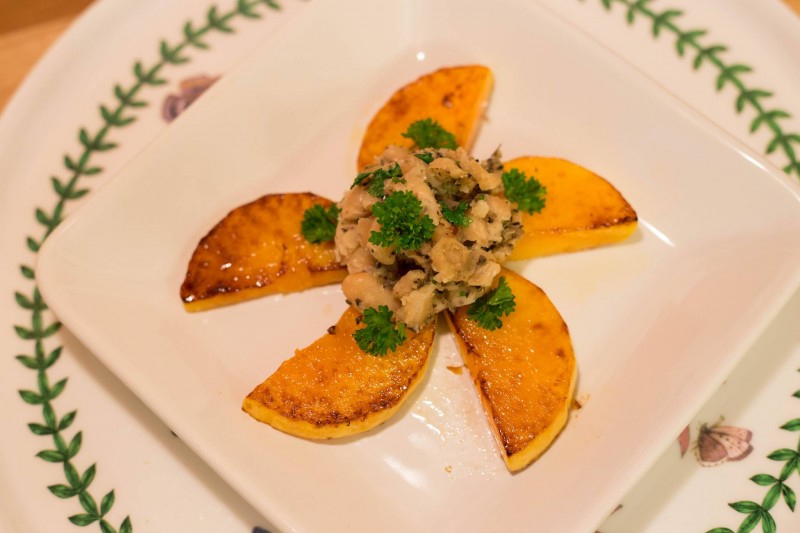 (A sequential installment from Kim Hastings, my photographer friend and, along with her vet husband, owner of Independence Veterinary Hospital, who decided on her own to cook her way through The Blooming Platter Cookbook: A Harvest of Seasonal Vegan Recipes Julie & Julia Style for her omnivorous family as a strategy for more healthy eating.)
Today's recipe is the Grilled Butternut Squash with White Beans and Olivada. Spoiler alert: I will tell you now that this recipe got a rating of 4 in my book which is the highest rating possible.
To explain, my husband and I started this rating system during winery visits where we would write a number of 1-4 beside each wine we tasted. (The winery owners would get very excited thinking we were buying that many bottles!) Anyway this dish was so good I even packed up the leftovers to go on a trip so we could enjoy it again.
I always start by reading through the recipe and making sure I have everything. Check. Then I got started on the olivada so it would be ready when needed. I had purchased two tiny cans of olives thinking they were 6 ounce cans but no, they were 1.5 ounces. I have never been very good at estimating weights and measures clearly. So I used both cans but had to cut the other ingredients in half.
I went to my newly reorganized spice cabinet so proud that now I would be able to find everything I needed – but there was no oregano. How is that possible? I always have oregano. I tore through the cabinet from A to Z but there was none to be found. (Now I need to reorganize again.) No problem – I grow oregano in my herb garden. I have cultivated the same plant for 10 years and it has grown to be one of the largest plants I have. The leaves are dry now in winter but I can still use them. I grabbed my scissors and went out and…no oregano plant! Instead there was a huge hole! The dog had dug up my oregano plant and -ugh!!!!- replaced it with a gross toy! Are you kidding me?!! Things are going from bad to worse and I refuse to go to the grocery store for oregano. I finally decided to use a Greek seasoning I had on hand.
Once the olivada was done I took a taste and wow! I got some crackers out and started snacking while I started on the squash. The rest of the preparation was easy until I saw that I was supposed to have roasted the garlic. Too late – we are all hungry. So I just minced it and put it in the pan. One day I will try and roast a garlic but not today.
Arranging as instructed was like designing a work of art. It was beautiful when complete. I even used a cookie scoop to place the beans on the center of the fan of squash. Perfection!! Of course I got joked by the guys for taking the time to arrange a side dish, but one bite and they quickly stopped making fun of me. It goes without saying that this dish will be repeated many times in our household and I will definitely be making the olivada for parties.
~Kim Hastings