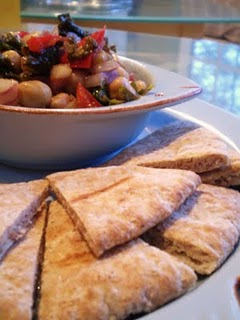 My good friend and fellow art teacher-foodie, Trish, is inspired in the kitchen. Trish is the kind of cook who rarely measures or writes recipes down, yet she can repeat a dish and it will be as good or better as the first time.
At the end of the summer, Joe and I enjoyed appetizers and a glass of wine at her and husband, Ken's, house before walking to dinner at a restaurant nearby. While the dinner was delish, Trish's appetizer was even better. She adapted a chickpea tapas dish from Padma Lakshmi's cookbook to wonderful effect; it was one of the best simple appetizers I've ever eaten.
I adapted Trish's recipe, not because it wasn't perfect as it was, but because I spied bags of chopped kale at the grocery store. The end result is different than when using the wilted, rung out and chopped spinach as she did, but I loved it. I also didn't have any scallions, so I substituted the red onion. Its flavor is more pronounced, so I just let the flavors marry longer before serving.
Balancing flavors is all about the assertiveness of particular ingredients, which can differ from one time to the next. So, Trish's pinch of cinnamon became a whole teaspoon in my version. I also halved the amount of lemon juice and zest and still added a tablespoon of maple syrup, probably because the kale is slightly more pungent than spinach.
The bottom line is to feel free to play with proportions.
10 ounces chopped fresh kale or spinach leaves (you may use half arugula)
1-14 ounce can chickpeas, drained and rinsed
Zest and juice of 1 lemon
1/4 cup of olive oil
1 tablespoon maple syrup
approximately 1 tablespoon ground cumin
2 teaspoons ground coriander
1 teaspoon cinnamon
pinch of crushed red pepper flakes
Coarse sea or kosher salt to taste
Freshly ground pepper to taste
1/2-1 red bell pepper, stemmed, seeded and diced
one bunch of scallions, chopped (or 1/2 of a red onion, finely diced)
Accompaniment: warmed, grilled or toasted whole wheat pita bread triangles, pita chips, or pita pockets
Slightly wilt kale or spinach in a saucepan with a tiny bit of water. If using spinach, drain, squeeze dry, and chop. Mix together next 9 dressing ingredients in a large non-reactive bowl. Add greens, bell pepper and scallions or red onion. Mix well and chill, preferably over night. Serve with warmed, grilled or toasted pita bread triangles, pita chips, or as a filling for a pita pocket.
Source: Adapted by Trish Pfeifer from a recipe by Padma Lakshmi.