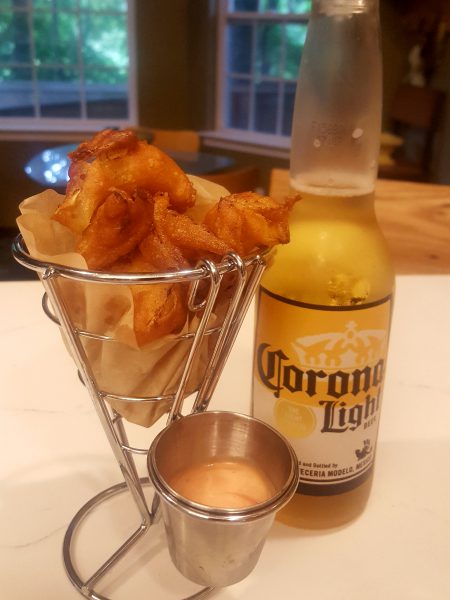 Vegan Fried Onion Petals!
Bob said this was the best batter he had ever tasted, so I have to share with you all.  To be specific, he said it was a "killer batter."
1 medium Vidalia Onion, sliced into thin wedges like an apple
1/2 cup flour
1 1/2 tablespoons cornstarch
1/4 teaspoon garlic powder
1/4 teaspoon smoked paprika
1/4 teaspoon sea salt
1/8 teaspoon freshly ground pepper
8 tablespoons (vegan) beer
Heat oil to 375 degrees. In a medium bowl, whisk together all ingredients except onion.  Working with 1/4 to 1/3 of the onion petals at a time, dip them into the batter and drop them into the hot oil, making sure not to let them touch initially.
Fry for 2 to 2 1/2 minutes or until golden brown. Drain on paper towel, and serve immediately with a sauce made of equal parts vegan mayo and ketchup.
Note: if desired, heat oil to 350 degrees and cook for 3 minutes if you don't care for a small amount of crunch to your onion.
#vegan #veganrecipes #veganfood #veganfoodshare #veganfoodporn #plantbased #plantbasedrecipes #plantbasedfood #plantbasedfoodshare #plantbasedfoodporn