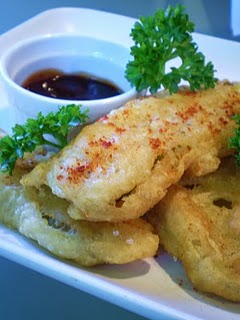 Yield: 12 slices
Do you crave bar menu junk food every so often? I do and tonight was one of those nights.
We were low on fresh produce, but I had some bread & butter dill pickle slices on hand. And I remembered that a week ago, the chef at one of our very favorite restaurants had made me an order of vegan fried dill pickle slices–the thin long ones especially for sandwiches–using flour and soymilk. They were delicious.
I decided, just for a change, to try more of a tempura-style beer batter. So, while about a scant 1/2-inch of canola oil heated, I made a batter of roughly equal parts self-rising flour and lite beer. Then I dipped the slices in more self-rising flour seasoned with a little salt and pepper and next into the batter.
After frying them until they were a golden brown, I sprinkled them with a little paprika and devoured them with BBQ dipping sauce and fresh parsley sprigs. I intended for the latter to be a garnish, but I liked their fresh taste with the crisp fried pickles.
I can imagine these vegan fried dill pickles with all kinds of dipping sauces, maybe even an Asian one since the batter is very similar to tempura. I could also imagine seasoning the flour or batter with spices like curry powder for a whole different taste sensation.
I can't say that I liked my batter-dipped ones better than the restaurant's, but I liked them just as much. And as you probably know, dredging and battering are two different things, sort of like comparing apples and oranges, with batter-fried foods a bit more filling. Still, the leavening in the flour plus the beer makes for quite a light batter.
Don't be tempted to try dill pickle spears. I tried a few with the leftover flour and batter, but felt they were too much of a good thing. Stick with the thinner sandwich slices for a superior product, including their pickle to batter ratio.
scant 1/2-inch canola oil in large cast iron skillet
approximately 1/3 cup self-rising flour
pinch salt
a few grinds of fresh black pepper
an additional approximate 1/2 cup self-rising flour
approximately 1/2 cup light beer
pinch garlic powder
pinch onion powder
12 sandwich-style bread & butter pickle slices
Optional garnish: a sprinkling of paprika and fresh parsley sprigs
Heat oil over medium-high until a drop of water sizzles and sputters. Meanwhile, drain pickles between paper towels. Place first 1/3 cup self-rising flour and a pinch of salt and pepper in a shallow bowl. In another shallow bowl, whisk together the 1/2 cup self-rising flour and next 3 ingredients. Add more self-rising flour or beer if needed to achieve a pancake batter or slightly thinner consistency. Dredge pickle slices in seasoned flour and then dip in batter before carefully lowering into hot oil. Fry six at a time for a couple of minutes on first side or until golden brown, carefully flip and fry a couple more minutes on second side until the color matches the first. Remove to a paper towel-lined plate to drain. Serve hot with the sauce of your choice optionally garnished with paprika and sprigs of fresh parsley.