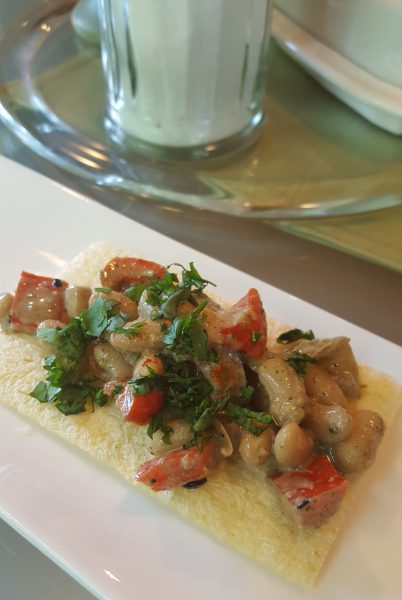 Yield: 2 main dish servings or 4 side servings
Summer is meant for grilling, right?  Yea, no.  At least not at my house.  I've never been an outdoor griller, but I do have a much beloved stovetop grill pan that I use year-round.
A craving for caramelized onions and peppers with a bit of protein from some plump little white beans was the inspiration for this salad.  But these ingredients needed something creamy to hold it all together.  A little while back, I had made a beet green pesto–though any flavored pesto, commercial or homemade would be delicious–and decided to fold it into "lite" vegan mayo (I like Vegenaise brand) in a 1:2 ratio for the dressing.  Yum!
The only drawback was aesthetic.  Despite the red bell pepper, the overall color of the salad was pretty brown. Not wanting to add a green vegetable, as its consistency and flavor was just right as it was, I simply chopped up a little cilantro–although other green herbs would work nicely as well–and sprinkled it over the top.
This salad is filling enough to eat on its own, perhaps atop a bed of greens, but I like it on cracker bread for crispy-crunch.  The salad also cries out to be tucked into a wrap or stuffed in a pita pocket.
Regardless, you'll be crying for more.
Vegan Cannelini Bean and Pesto Salad with Grilled Onions and Red Bell Peppers
1 can cannelini beans (white beans), rinsed and drained
1 onion, halved, sliced crosswise, grilled on both sides for a few minutes over medium-hi, and cut into pieces
1/2 red bell pepper, halved, sliced crosswise, grilled on both sides for a few minutes over medium-hi, and diced
2 tablespoons vegan pesto, any flavor (I used a homemade beet green pesto)
Approximately 1/4 cup vegan mayonnaise
1/4 teasoon garlic powder
Sea salt and freshly ground black pepper to taste
Garnish: finely chopped cilantro, chives, parsley, or other fresh green herb
In a medium bowl, gently combine beans, onion, and red bell pepper.  In a small bowl or cup, whisk together pesto, mayonnaise, and garlic powder.  Spoon over vegetables.  Fold together until completely combined, seasoning to taste with salt and pepper.  Serve over greens, on crackers or toast, or in a pita or wrap.