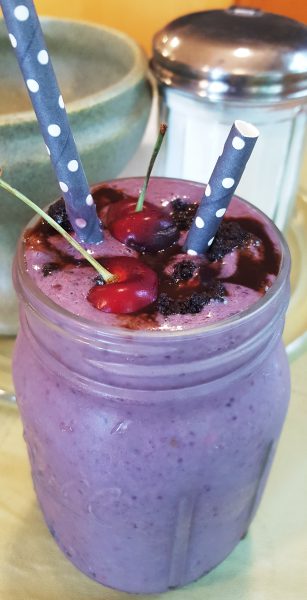 Yield: 2 servings (or 1 big one if you are really hungry and in need of hydration)
This is what would happen if cherries and chocolate had a nutritious love child…
I love Black Forest Cake and, when I discovered some chocolate cake crumbs in the fridge–from hollowing out cupcakes for a caramel filling–,I knew I would use them to top a Black Forest Cake-inspired smoothie for breakfast.
When I make a smoothie, I always use frozen fruit to achieve my favorite creamy texture.  So, because frozen dark sweet cherries were significantly more calories and less nutrition than the cherry-berry blend, I purchased athye latter.  I actually had fresh cherries in the fridge, but didn't want to pit them, so I just used them as part of the tantalizing garnish.
Also, because I wanted a bit more nutrition and can't be necessarily trusted to get it at another meal–lately I've wanted "French Fries and Champagne" for dinner (be sure to check out my post about this tomorrow or Saturday)–I added a lot of fresh baby kale.  That likely masked the cherry flavor a little but preserved the beautiful color, so I boosted the flavor with a few maraschino cherries.
All this baby needed was a couple of tablespoons of chocolate syrup–Hershey's is vegan, but use melted vegan chocolate if you prefer–; a little extra sweetness for which I use a powdered stevia; an optional boost of omega-3 fatty acides with some flaxseed meal; and a pretty garnish of fresh cherries, another drizzle of chocolate syrup, cake crumbs, and two cute paper straws from Target.
The two straws were just for looks mind you…I shared with no one!
2 cups soy or other non-dairy milk
2 lightly packed cups baby kale leaves with tender stems
1 cup frozen cherries and berries (less calories and more nutrition than frozen dark sweet cherries, but use them if you prefer)
2 tablespoons chocolate syrup or melted chocolate (Hershey's syrup is vegan)
6 maraschino cherries, stemmed
2 tablespoons powdered stevia (or your favorite sweetener to taste)
Optional: 2 tablespoons flaxseed meal
Garnish: fresh cherries, a drizzle of chocolate syrup and, if desired, chocolate cake crumbs
Place all ingredients except garnishes in a blender or, my preference, a Magic Bullet, and blend about a minute or until smooth.  Serve in Mason jars or glasses, garnished as desired, with cute paper straws.