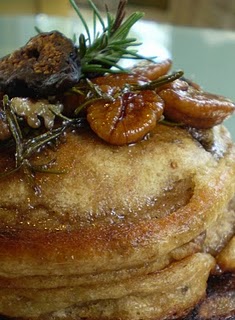 I'm home on Spring Break this week with time to make weekend morning fare mid-week. I know these pancakes (dubbed "Brandycakes" by my husband) sound more fitting for autumn, but they were completely satisfying, even though we're having 80 to 90-degree days.
When I was trying to imagine what would be compatible with the figs besides the dried spices, yet provide an unexpected twist, the brandy occurred to me first–I always have to sneak some of the "good stuff" for cooking when my husband is out of the house–but that didn't seem quite layered enough. And then it hit me: fresh rosemary.
I think you'll agree that this combination would be hard to beat in any season.
Yield: 8 pancakes
8 dried Mission figs, quartered and then finely chopped
2 tablespoons brandy
1/2 cup self-rising flour
½ cup whole wheat flour
4 tablespoons brown sugar
pinch ground nutmeg
pinch ground mace or cloves
½ teaspoon baking powder
¼ teaspoon baking soda
1/2 cup plain soy yogurt
1/2 cup unsweetened soymilk (plain or vanilla soy milk would also be good–regular or lite) + another tablespoon or two if needed
1/4 cup brandy
Vegan butter (I like Earth Balance) and/or vegetable oil for frying
Vegan Maple-Brandy-Rosemary-Pecan Syrup (recipe follows)
Garnish: per serving, 1 dried Mission fig, sliced lengthwise in half, and a tiny sprig of fresh rosemary
Preheat oven to warm. Place figs in a small cup or bowl and pour the first 2 tablespoons of brandy over. Allow to macerate while you prepare the rest of the batter. In a medium mixing bowl, place next 7 ingredients. Make a well in the center and spoon/pour in yogurt, soymilk and brandy. Stir together with a fork until well combined. Stir in figs and any remaining liquid. Melt 1 additional tablespoon of the vegan butter, the oil or a combination. (I like a combination: the oil reduces chances of burning while the butter contributes flavor.) Using a 1/4 cup measure, make pancakes, two at a time. Cook a couple of minutes on the first side until you see a few bubbles, get a nice rise and the edges appear set. Gently flip and cook another couple of minutes on the reverse. Add butter and/or oil to keep skillet greased as needed. If pancakes are cooking too quickly, lower heat to medium, especially for second side. (While pancakes cook, make syrup.) When cooked through, remove pancakes to plates or a serving platter, keep warm in the preheated oven, and repeat with remaining butter and/or oil and pancake batter. Serve warm with syrup and garnish.
Vegan Maple-Brandy Rosemary-Pecan Syrup
2 tablespoon vegan butter (I like Earth Balance)
2 sprigs of fresh rosemary, leaves only
1/2 cup maple syrup
2 tablespoon brandy
1/4 cup pecan pieces
In a small cast iron skillet over medium-high, melt butter. Add rosemary, bruising between your fingers as you drop it into the butter. And remaining ingredients, and heat slowly, stirring occasionally, for a couple of minutes. Reduce heat if bubbling too fast. If you heat it slowly, the brandy shouldn't combust. If it does, it will burn off on its own. Keep syrup warm until serving time.