All is right with the (culinary) world when I have a crock vegan cheese spread in our refrigerator!
I never found just the ceramic crock I was looking for–you know, those old-fashioned glossy dark brown ones like you'd find on restaurant tables back in the day?–so I gave up and purchased glass ones at a kitchen shop.  As it turns out, I've decided they are more practical because I can see which type of cheese spread is inside, and that could be any one of a number, as I have many favorites.  You can find them ere on this blog (just search cheese spread, "cheez" etc.) and in my Blooming Platter Cookbook.  But, while the crocks may not have been exactly what I had hoped  for, the cheese spreads are!
When I was developing recipes for the cookbook last year, I was wracking my brain for an ingredient that would make my cheeses cheesier with more of an "aged" or "fermented" taste.  And suddenly it hit me:  beer!  I grabbed one out of our garage fridge where my husband keeps his protein drinks (ick!) and beer, and whipped up a batch.  Now, I never make cheese spreads without it.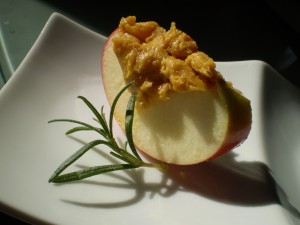 This version takes its rich golden-orange color and subtle smoky flavor from turmeric and smoked paprika .  It is is perfect spread on a crisp and juicy apple slice or on a cracker and topped with a thin slice of fresh apple.  I love our local Winesap apples for this, but use your favorite.
Though I think my spreads are best after they ripen in the refrigerator for a few hours, I like to remove them a half hour or so before serving, as I think the flavor opens up when the spread isn't too cold.
Yield:  approximately 2 cups
2 cups roasted and lightly salted cashew halves and pieces
1/2 cup vegan beer or non-alcoholic beer (you may add more to reach the consistency you desire)
2 tablespoons nutritional yeast
1 tablespoon light miso
1 small clove garlic, peeled
1 teaspoon Bragg's Liquid Aminos or to taste
1/8 teaspoon garlic powder or to taste
1/8 teaspoon onion powder or to taste
1/2 teaspoon smoked paprika or to taste (add enough to taste but not overwhelm)
1/4 teaspoon turmeric
Pinch of freshly ground black pepper
Accompaniments: Sturdy crisp crackers like Melba toast and apple slices lightly sprinkled with lemon juice to prevent oxidation
Place all ingredients in the bowl of a food processor fitted with a metal blade and process until smooth, scraping down the sides of the bowl as necessary.  This will take several minutes.  Scrape into an airtight container and ripen in the refrigerator for several hours if time allows.  If not, you may serve it immediately and store any leftovers in the refrigerator.  If the spread has been refrigerated, allow it to sit at room temperature for a half hour or so before serving.