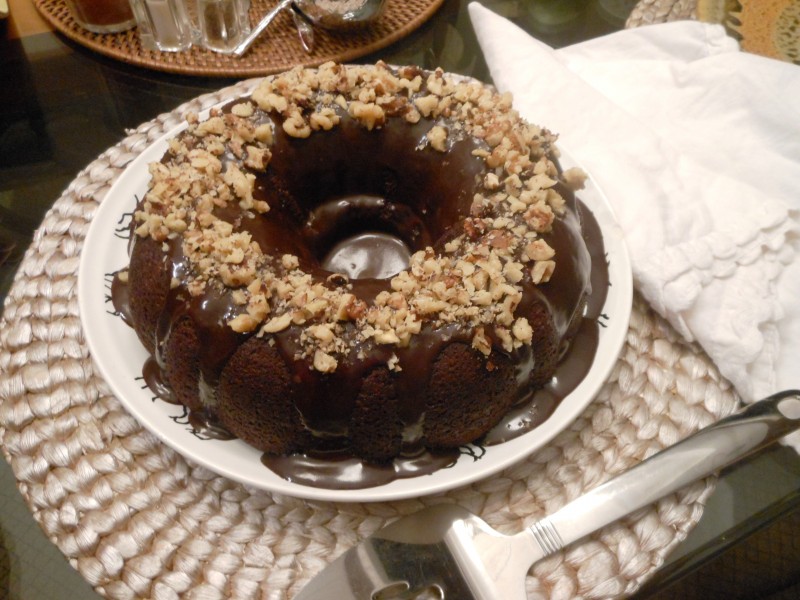 Our Thanksgiving tradition is in transition this year. For over 20 years, Joe's and my families have gathered at our home in VA Beach to celebrate my favorite holiday.
Birth, death, illness, divorce, and distance–the stuff of life–altered the guest list from year to year, but essentially our culinary tradition remained intact, alternating between traditional-with-a-twist and very non-traditional thematic feasts: Cajun, Thai, American Diner, and more.
Finally, though, my parents have gotten to the age (81 and 86) where neither the drive nor the flight from MS is comfortably manageable, though my father still works part-time as an engineer and just drove them to and from Texas where my mother's siblings live.  
Last November, Mama took a spill in a Cracker Barrel parking lot in North Carolina on their way home–I told them that place was dangerous!–and they ended up in the local hospital.  She was fine, if shaken, but the writing was on the wall.
So, though it made all of us a bit sad–as my mother said, "You think things will always be the same"–I suggested that we meet in New Orleans, an easy 2 1/2 hour drive from their home and a not-too-terrible flight from here.  Grateful and enthusiastic, my folks booked us into the Chateau LeMoyne, a family favorite, and I made Thanksgiving dinner reservations at Broussard's, another family favorite since childhood.  Joe is game–he thinks it's the right thing to do– if a little skeptical, as it's not "his" city in the way that it is ours; my sister and I were weaned on The Big Easy.  And, though the decision was made too late for them to be with us this year, Joe's sisters and our niece are hoping to join us every other Thanksgiving if our NOLA tradition continues.
Wherever you will be, whoever you will be with, and for whatever reason, my sincere hope is that you will find yourself deeply grateful for life's gifts, even if, like us, they represent a "new normal."
As a gesture of gratitude, over the next three weeks, I will serve up three new recipes–one per week–for a perfect, if slightly non-traditional, vegan feast.  And I'm starting with dessert!  Enjoy this moist, richly autumnal, and complexly flavored cake.  It was a hit for a friend's recent birthday and I've made it again for a small dinner tomorrow night for two girlfriends.  Were we going to be at home, it would certainly be on our Thanksgiving menu.
Happy Thanksgiving!
Yield: 1 10-inch bundt cake
1 cup unsweetened or plain soymilk
1 tablespoon vinegar
1  3/4 cup unbleached all purpose flour (I use white whole wheat)
1 3/4 cup turbinado sugar
3/4 cup cocoa powder
1 1/2 teaspoons baking powder
1 1/2 teaspoons baking soda
1 teaspoon pumpkin pie spice (or 1 teaspoon cinnamon + 1/8 teaspoon ground cloves)
1/4 teaspoon salt
1/2 cup vegetable oil (I use canola)
1/2 cup maple syrup (or agave nectar)
1-15.5 ounce can pureed pumpkin (not pumpkin pie filling)
1 tablespoon vanilla
Spiced Espresso Ganach (recipe follows)
Garnish: chopped walnuts
Preheat oven to 350 degrees.  Spray 10-inch bundt pan with nonstick spray and set aside.   In a small cup, whisk together soymilk and vinegar and allow to curdle and thicken.  Place all dry ingredients in a very large mixing bowl in the order given, and whisk to combine.  Add remaining wet ingredients including soymilk mixture and whisk 50 strokes or until lumps disappear.  Avoid overbeating.  Transfer into prepared bundt pan and bake 1 to 1 1/4 hours or until a toothpick inserted in the center comes out clean.   (65 minutes is perfect in my oven.)  Allow to cool completely in pan, loosen around edges, top with serving plate, and and invert.  Spoon ganache around the top of the cake, allowing some to drip down the inside and outside edges and sprinkle with walnuts.
*Spiced Espresso Ganache
1/2 cup plain non-dairy creamer (soy or  coconut)
6 ounces chocolate chips
1 1/2 teaspoons instant coffee or espresso powder
1/48to 1/4 teaspoong round cinnamon (adjust to suit taste)
Heat creamer to barely bubbling.  Add chocoate chips.  Allow to sit a couple of minutes and then whisk together until smooth and completely combined.  Whisk in instant coffee or espresso powder and cinnamon.  Allow to cool until a thick pourable consistency.
*I like to double the recipe, using the whole bag of chips, and save half for another decadent purpose!