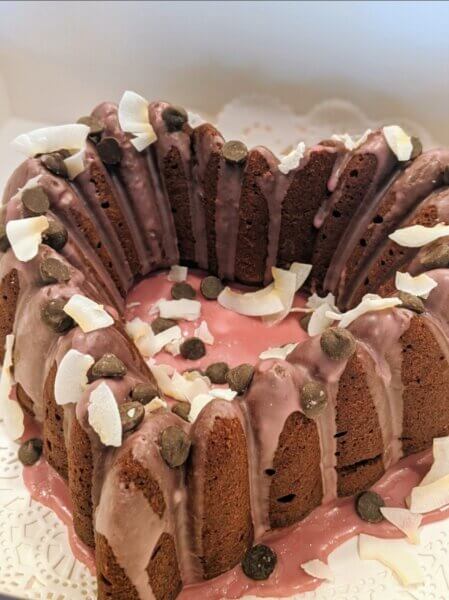 Yield: 1-10-inch Bundt cake or 24-2 inch mini Bundt cakes
Red wine is not just for drinking anymore!
My latest creation–whipped up in one bowl (and one for the gorgeous glaze)–can easily and quickly be yours: Red Wine-Chocolate Bundt Cake with Red Wine Glaze (and chocolate and coconut chip garnish)!
I made the large version as a gift given in a cake box tied with a gorgeous ribbon and the minis for my annual Christmas, Chanukah, Curry and Cakes Party.
Merry, Merry, everyone!
Red Wine-Chocolate Bundt Cake
2 cups flour
1 1/2 cups natural sugar
1/2 cup cocoa powder
1 1/2 teaspoons baking powder
1/2 teaspoon salt
3 egg substitutes (I used 3 tablespoon Neat Egg– it is flaxseed meal and tapioca starch; I used just flaxseed meal for mini Bundts)
1 1/2 cups red wine (I used Cabernet Sauvignon)
1 cup vegetable oil
1/2 cup non-dairy milk
2 teaspoons vanilla
Red Wine Glaze (recipe follows)
Preheat oven to 350 degrees. Spray a regular or mini Bundt pan with baking spray. In a large bowl, whisk together all dry ingredients. Make a well in center, and pour in all wet ingredients. Whisk together until batter is smooth. Pour into prepared pan. Bake 45 minutes for large/30 for minis or until a toothpick inserted in center comes out clean. Cool 10 minutes. Invert onto wire rack, cool completely, and then glaze.
Red Wine Glaze
2 to 3 tablespoons red wine
1 teaspoon vanilla
1 cup powdered sugar
1/4 cup vegan chocolate chips
1/4 cup coconut chips or shaved coconut
In a medium bowl, whisk together red wine, vanilla, and powdered sugar, adding more red wine or powdered sugar to reach desired consistency. Place cake on wire rack in shallow pan to catch drips and pour glaze over. Decorate with chocolate and coconut chips.
#Vegancake #plantbasedcake #veganholidaycake #plantbasedholidaycake #redwine #vegan #veganrecipes #veganfoodshare #veganfoodporn #plantbased #plantbasedrecipes #plantbasedfoodshare #plantbasedfoodporn