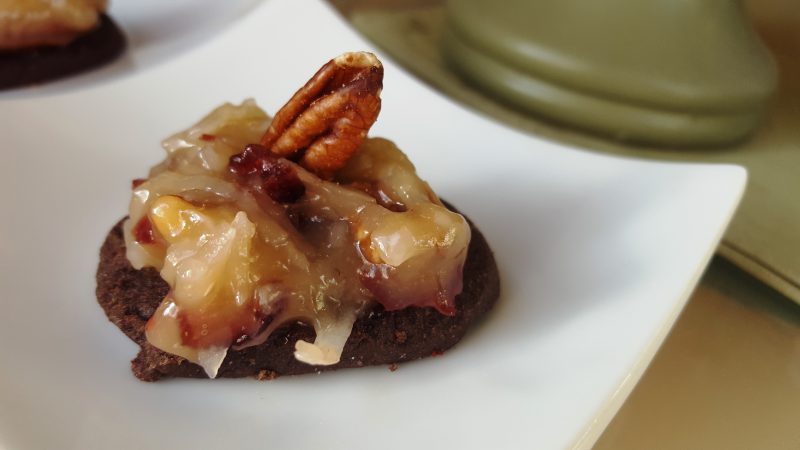 Yield: 5 dozen cookies
I hope my sweet, stubborn, late paternal grandmother, Mam-ma, is not "rolling over" at what I've done to one of her four iconic Christmas cookie recipes, mailed to us wherever we might be if not with her and Pap-pa, packaged in waxed-paper lined tins with the faint aroma of mothballs.
It is hard to improve on perfection and her roll and slice cookies were indeed perfect.  So, my version is not better, just different.  If you want to make Mam-ma's, simply dispense with the chocolate, topping, and garnish, and enjoy plain, buttery, almond-infused cookies, perfect with tea.
Cookies:
1 cup vegan butter, softened
3/4 cup powdered sugar
3 tablespoons unsweetened cocoa powder
1/2 teaspoon vanilla extract
1/2 teaspoon almond extract
2 cups all purpose flour (I use white whole wheat)
Vegan Coconut, Pecan and Dried Cranberry Filling (recipe follows)
Pecan halves or large pieces
Cream together in an electric mixer butter, powdered sugar, and cocoa powder.  Turn off mixer and add extracts, and 1/2 cup flour, and incorporate into butter mixture on low speed.  Gradually add remaining flour on low speed, scraping down sides of bowl as needed.  Divide dough into fourths, roll into logs about 1 1/2 inches in diameter, wrap in waxed paper, and chill for 20 minutes or until firm.  Preheat oven to 350 degrees. Slice each log into 1/4-inch diagonal slices and place slices 2 inches apart on an ungreased cookie sheet, preferably lined with Silpat or parchment paper.  Bake for 8 to 12 minutes (my family likes them a little more "done.")  Remove the cookie sheets to a wire rack and cool completely. Top each cookie with a teaspoon of filling and garnish with a pecan half.
Vegan Coconut, Pecan and Dried Cranberry Filling:
1 cup unsweetened soymilk (plain, vanilla or vanilla lite would also be good)
1/3 cup coconut milk
1 ¼ cups granulated sugar (I use demerera)
1 teaspoon vanilla extract
¼-1/2 teaspoon almond extract
2 tablespoons cognac or bourbon
Juice of one lemon
½-1 teaspoon of lemon zest
1/3 cup cornstarch
¼ cup water
2 cups sweetened flaked coconut
1 ½ cups pecan pieces or chopped pecans
½ cup (generous) dried cranberries
In a medium saucepan, mix the soymilk, coconut milk, sugar, extracts, cognac or bourbon, and lemon juice and zest. Whisk the cornstarch together with the water and add to soy milk mixture. Cook, stirring constantly, over medium-high heat until mixture boils and thickens. Cook and stir for one minute after it boils. Remove from heat and stir in coconut, pecans and dried cranberries. Cool to almost room temperature before spreading on layers.