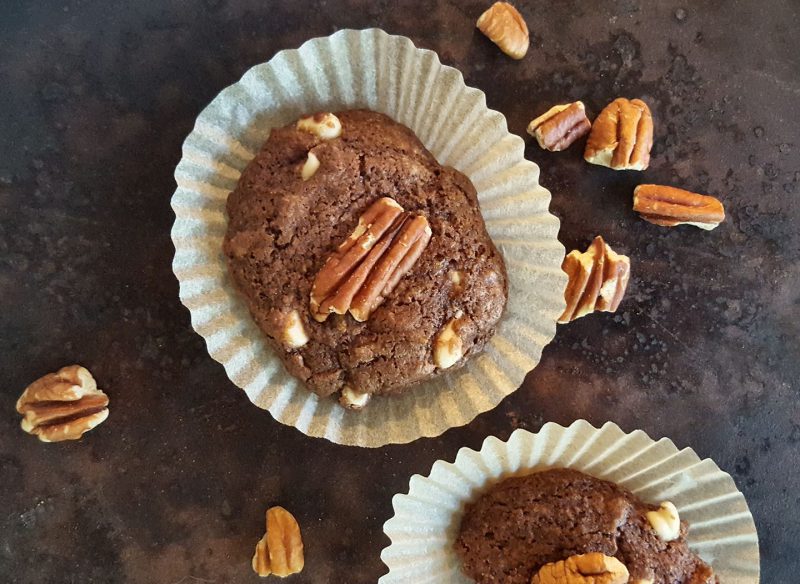 Yield: 1 dozen cookies (recipe easily multiplies)
I am not sensitive to gluten–at least not in any noticeable way–so I created these cookies for two reasons: 1) for folks who are, and 2) because I have a summer crush that is quickly turning into a long-term affair with brown rice flour.  It lends to these cookies and, presumably, other baked goods, an ever-so-slight "sandy" texture that reminds me of the commercial Pecan Sandy cookies of my childhood.
To create this recipe, I started with my late mother, Sallie Gough's, recipe for Chocolate Crinkle Cookies.  I adored both my mother and her cookies.  The recipe scribed in her distinctive hand-writing on a badly stained file card is a testament to the central role Chocolate Crinkles played in my young culinary life.  When my cousin, Dan, would make his annual summer visit from Texas to our home in Mississippi, baking these cookies–dark, almost black, balls rolled in powdered sugar that baked up into flat-ish white cookies with dark rivulets through them–was always on the itinerary along with box sliding on Sewer Hill and epic neighborhood games of Kick the Can.
Note that, since I am not gluten-sensitive, the "trace" of gluten that "may" have been present in my vegan white chocolate chips did not pose a problem for me.  If you are baking for gluten-free cookie lovers, make sure a possible trace is not an issue or look for a brand "without a trace."
1 cup brown rice flour
1 cup granulated sugar
1/4 cup cocoa powder
2 teaspoons baking powder
1/2 teaspoon sea salt
1/2 cup apple sauce (this flavor is not detectable)
1/4 cup vegetable oil (canola or sunflower is fine)
1 teaspoon vanilla
1/2 cup vegan, gluten-free white chocolate chips (may subsitute vegan, gluten-free chocolate chips)
12 pecan halves.
Preheat oven to 350 degrees.  Line cookie sheet with parchment paper or Silpat.  In a large bowl, whisk together all dry ingredients except white chocolate chips and pecan halves.  Make a well in the center and pour in applesauce, vegetable oil, and vanilla.  Whisk together wet and dry ingredients until completely combined and the consistency of any other cookie dough.  Stir in chips.  With a small scoop or tablespoon, scoop up rounded tablespoons of dough and place about 3 inches apart on prepared cookie sheet.  Top each with a pecan half, pressing down gently to ever-so-slightly flatten the cookie.  Bake 12 minutes or until completely set.  Remove from oven and allow to cool completely on cookie sheet placed on wire rack. Store in airtight container.