Yesterday, I promised a dish from The Blooming Platter Cookbook that would be delicious served with my Vegan Caraway-Havarti Cheese  Spread on Melba toast that I posted yesterday.
So here it is!  It is my pleasure to share this simple but special recipe  inspired by a salad I enjoyed at a tiny bistro in Paris on my husband's and my twentieth wedding anniversary trip two summers ago.   That salad contained no Tempeh Bacon, nor does the recipe in the cookbook.  But I love the addition, which I just created, so I'm thrilled to share it with you here.
Note that the recipe calls for starting with dried lentils, but I often just buy a 17.6 ounce package of Trader Joe's steamed lentils, sold in their produce section, and use the whole package.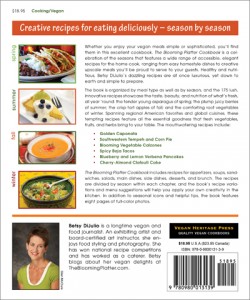 Yield: 4 to 6 servings
2 1/4 cups water
2 bay leaves
1 1/2 cups green lentils, picked over, rinsed, and drained
3 tablespoons olive oil (or 2 tablespoons olive oil + 1 tablespoon walnut oil)
1 tablespoon champagne vinegar or apple cider vinegar
1 1/2 teaspoons Dijon mustard
Sea salt and freshly ground black pepper
1 large apple (any variety)
1/3 cup chopped red onion
1 tablespoon snipped chives
3 tablespoons lemon juice
Optional: Quick Vegan Tempeh Bacon (recipe follows)
1. In a 2-quart covered saucepan over medium-high heat, bring water and bay leaves to a boil, reduce heat to a simmer. Stir in lentils and gently simmer, partially covered, for 30 minutes. Check at 10 minute intervals, as lentils are easy to overcook; they should be firm enough to hold their shape when tossed with the other ingredients. Add more hot water if necessary to prevent sticking or scorching. (Skip these steps if using pre-steamed lentils.)
2. While the lentils cook, make the vinaigrette. In a large serving bowl, combine the oil, vinegar, mustard, and salt and pepper to taste. Whisk until well blended and slightly emulsified. Set aside.
3. Halve the apple lengthwise, scoop out the core with a melon baller or spoon, arrange each half cut side down on a work surface, and cut into 1/8-inch thick slices. Then stack several slices together on their sides and cut them into 1/8-inch matchsticks. Add to the bowl with the dressing as you cut them, and stir gently to coat in order to prevent discoloration. Stir in the onion and chives.
4. When the lentils are cooked, drain, rinse with cool water to stop the cooking, and drain well. Remove the bay leaf. (Obviously, skip this rinsing and draining step if using the pre-steamed lentils.)  Stir the lentils into the dressing mixture. Season with salt and pepper, and add the lemon juice, 1 tablespoon at a time, to taste. Toss gently to combine. Taste and adjust the seasonings if needed. Cover and chill the salad several hours before serving to allow flavors to marry.
If including the Temp Bacon, add just before serving.
Quick Vegan Tempeh Bacon:
2 tablespoons olive oil
1-8 ounce package tempeh (I use Trader Joe's brand), sliced cross-wise into about 20 slices 1/4-inch thick
1/4 cup soy sauce (I use a light variety)
2 tablespoons Liquid Smoke
2 tablespoons natural sugar
Sea salt
Heat olive oil in a large skillet over medium-high heat.  Add tempeh slices to the pan and sprinkle with 2 tablespoons soy sauce, 1 tablespoon of Liquid Smoke, 1 tablespoon of natural sugar, and a pinch of salt.  Saute, without disturbing for 2-3 minutes or until caramelized, but not burned.  Flip slices and repeat with remaining ingredients.  Turn off heat.  Flip slices one more time and allow them to sit for a minute or two just to absorb a little more of the flavors.  Remove them from heat and serve immediately.  (The pan drippings are really yummy.  If I'm using, say, chopped onion in a recipe with compatible flavors, I like to add the onion to the skillet and stir them around to absorb some of the drippings which are too good to go to waste!)
Serving suggestion:  If you would like to serve the salad over grilled apple slices as in the photograph, cut 1/4-inch thick apple slices and grill them in an oiled grill pan over medium-high heat for 2 to 3 minutes on each side or until tender, but not mushy, and nice grill marks appear.