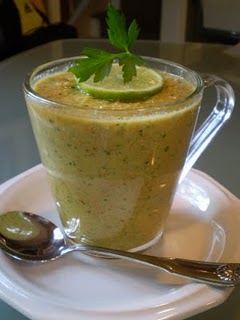 Yield: 4-6 servings
This soup is so tasty that I will certainly make it even after I can eat solid food. Created for my post-oral surgery diet, it helps me feel less deprived because it contains much of the nutritious deliciousness that makes me crave Thai food.
1 tablespoon olive oil
1/2 of a medium onion, peeled and slivered
2 large cloves garlic, sliced
2 generous cups baby carrots
3/4 pound seedless cucumbers (3 very small cucumbers)
1 cup cashew pieces and halves
1-14.5 ounce can coconut milk
1 scant tablespoon vegan fish sauce
1/4 cup very lightly packed fresh cilantro leaves
1/4 cup very lightly packed fresh Thai basil leaves
Coarse sea or kosher salt to taste
Freshly ground black pepper to taste
zest of one lime
In a large cast iron skillet over medium-high, heat olive oil until shimmering. Add onion and garlic and saute for a few minutes or until softened and just starting to turn golden. Meanwhile, steam carrots just until tender. Rinse with cold water to stop the cooking and drain. Place all ingredients except lime zest in the bowl of a food processor and puree until almost smooth, but flecks of texture and color remain. You may want to puree in two batches to prevent overflow. Transfer to a saucepan or microwave-safe bowl, stir in zest, and heat. Serve warm.