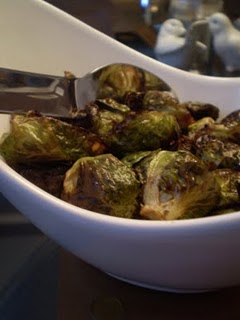 Yield: 4-6 servings
So you say you're not a fan of Brussels sprouts, eh? Well, that's because you haven't tried them like this. They are every bit as addicting as French fries or popcorn.
A member of the cabbage family, Brussels sprouts have a "whang" that some people find unappealing. However, if you roast them, they become sweet and caramelized. I like mine really crispy on the outside, but you can shorten the roasting time by about 5 minutes for less color and crunch.
They are delicious plain. But they are extra-special tossed in my light tangy-sweet vinaigrette before the final five minutes of roasting.
Be prepared for these not to make it to the table if you let yourself pop the first one in your mouth over the stove.
For this recipe and some 170+ more,
I invite you to purchase my first cookbook:
The Blooming Platter:
A Harvest of Seasonal Vegan Recipes
Vegan Heritage Press
Spring 2011