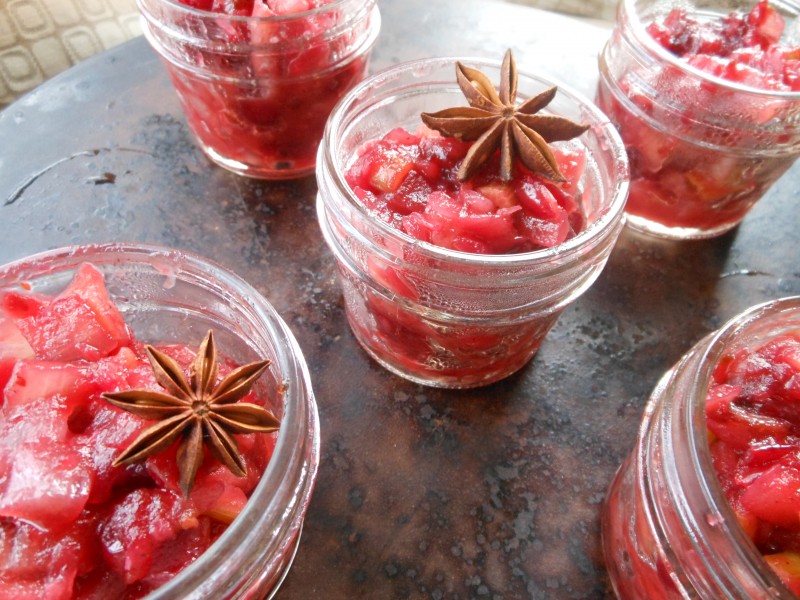 Today, I woke up and suddenly realized that–having been preocupied for the last week–I had a little leftover fresh produce in the fridge, but I'm headed out of town for a week, and it would spoil before I returned.
Invited to a Christmas luncheon at noon, I decided to whip together a couple of things to give as gifts to the other guests.  Fortunately, I had a set of 4 ounce canning jars that were perfect filled with the chutney, tucked into small gift bags with an additional jar of Vegan Corn Maque-Choux, a little tissue, and simple little bird ornaments that I also whipped together using recycled Kleenex boxes with beautiful patterns.
It was a busy morning, as I still got to yoga at 9:30 (well, 9:40!), and to the lovely luncheon at the home of close friend, Trish Pfeifer!  (Stay tuned for some of her delcious recipes!)
1 tablespoon olive oil
1 medium yellow onion, diced
1 1/2 cups diced fresh fennel (1 bulb + a little bit of the stalks)
Sea Salt
2 to 3 large cloves garlic, minced
1 1/2 cups fresh cranberries, rinsed and drained
1/2 cup turbinado sugar
1/2 cup water
2 tablespoons apple cider vinegar
1/2 cup dry white wine (I used pinot grigio)
In a large cast iron skillet, heat olive oil over medium-high.  Add onion, fennel, and a pinch of salt, and saute, stirring frequently, for about 5 mintues or until softened.  Add garlic and saute, stirring, for about 30 seconds.  Add cranberriesa and sugar, stirring until dissolved.  Add water and vinegar and cook, stirring frequently, until most of moisture is evaporated, or about 10 minutes, lowering heat if necessary.  Stir in wine, and let simmer, still stirring frequently, for anoter 10 minutes or until thick and pulpy.  Adjust salt, sugar or vinegar if desired.  Remove from heat, let cool, place into an airtight containers(s), and tie with ribbon and a star anise, if desired.