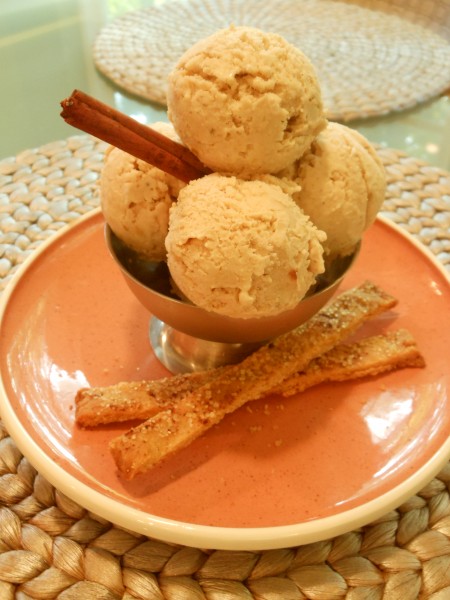 If you love Apple Pie a la Mode–and who doesn't?–my Vegan Apple Pie and Vanilla Ice Cream is for you!
The ingredient list is short and the process simple, so you can make it today and it will be ready just in time for your July 4 celebration!  And nothing is more American than apple pie, right?
After some experimentation, I found that cooking the apple puree until it formed a thick paste concentrated the deep apple flavor along with its rich, golden color.
And a generous amount of Tofutti Better than Sour Cream tempered the overall sweetness while lending to the ice cream its luscious texture.
Enjoy alone or with my simple, no-roll cinnamon-and-sugar Pie Crust Pieces broken up and mixed-in during the last minute or so of churning or sliced into strips and served as side-cars for a delectable crunch.
A cinnamon stick garnish isn't necessary, but it looks adorable, no?
However you serve it, you and your friends and family are sure to enjoy mom's apple pie in ice cream form!