Here in VA Beach, fall comes late so it can be quite warm this time of year.  Therefore, when my "good" vegan gal pals on "Good Reads" suggested that we all post a recipe inspired by pumpkin to celebrate the mid-way point of Vegan MoFo 2011, I decided to make mine a quasi-warm weather recipe while featuring this quintessential cool weather ingredient.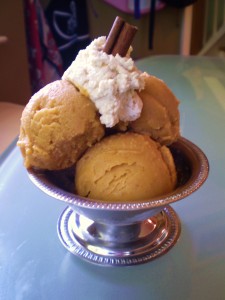 I love pumpkin as much as I do sweet potatoes, which is to say " a whole lot!" so I was all in.   And I love it in both savory and sweet dishes.  This one is a not-too-sweet, but plenty sweet enough (that one's for you, Lee!), maple-infused pumpkin ice cream.  I serve mine with sweetened Cashew Cream and a cinnamon stick.  But it would be delicious, say, with my Pepita Caramel Syrup (which is equally good on my Vegan Pumpkin-Bourbon French Toast) or with Pepita Brittle.
True confession:  I tried a new recipe I found online, experimenting with adding some additional flavors.  The recipe was a bust–maybe it was the Tequila and lime juice I added (seriously!)–as it never hardened enough to make brittle, but it also wasn't soft enough to serve as a sauce.  Plus, I discovered a very important lesson: cinnamon and chipotle chili powder, when combined, taste like a Red Hot!  I don't know about you, but I've never cared for Red Hots, and certainly not on my beautiful pumpkin ice cream.  So much for being creative.  I did, however, discover that I LOVE lime zest sprinkled over the top of the not-so-brittle brittle.  I'm going to keep experimenting and be back to you when the results are worthy of Blooming Platter readers!
For now, I hope you enjoy my newest creation!
Yield: approximately 1 quart
1 cup unsweetened or plain soymilk, divided
2 tablespoons arrowroot powder
3/4 cup soy creamer
2/3 cup natural sugar
1/3 cup maple syrup
1-15 ounce can pumpkin puree (feel free to substitute homemade)
3 cinnamon sticks
1/4 teaspoon ground ginger
1/4 teaspoon ground nutmeg
1/8 teaspoon ground cloves
1 teaspoon vanilla extract
1/4 teaspoon maple extract
Garnishes:  sweetened Cashew Cream, cinnamon stick halves, and/or Pepita Caramel Syrup
In a small cup or bowl, whisk together 1/4 cup soymilk with arrowroot until completely combined, and set aside.  In a 2 quart saucepan, combine remaining soymilk, soy creamer, sugar, maple syrup, pumpkin, cinnamon sticks, and dry spices.  Place over medium heat and cook, stirring frequently, until mixture just reaches a boil.  Remove the pan from the heat and immediately whisk in arrowroot mixture.  The custard will thicken noticeably and quickly.  Whisk in vanilla and maple extracts.  Pour the mixture into an airtight container and refrigerate until cold, approximately 2 to 3 hours or overnight.  Remove cinnamon sticks, whisk again, and freeze according to your ice cream manufacturer's directions.  Store in freezer.  Serve with a dollop of sweetened Cashew Cream, half of a cinnamon stick, and/or with Pepita Caramel Syrup.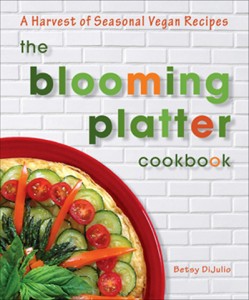 For 150 fresh seasonal recipes, including some some fabulous fall fare, I invite you to check out The Blooming Platter Cookbook: A Harvest of Seasonal Vegan Recipes.