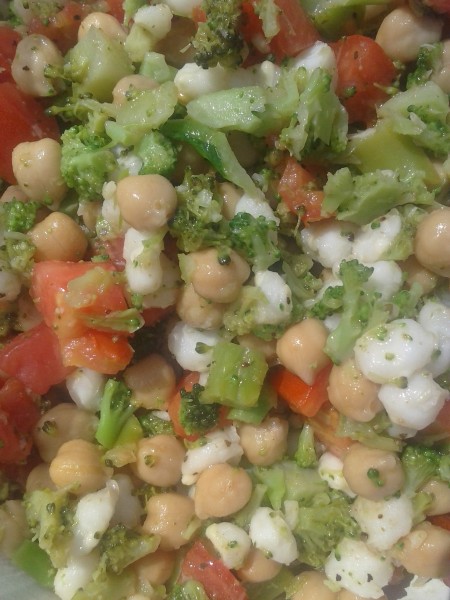 I good naturedly tease my family in MS about their "storm cellar," i.e. a plethora of canned goods, no doubt the "aftermath" of having lived through Hurricane Katrina, including displacement from their home for nearly t a year.
When I visit, as I did the first week of this month, I enjoy cooking for them and challenge myself to use what they have on  hand, as with this salad, which I prepared for a luncheon in honor of our dear family friend, Lisa Thames.  My mom made her famous Black Bean Soup, my sister her coveted Key Lime Pie, and my dad provided the wine–yep, wine at lunch for a special occasion such as this.
Even without the soup, pie, and wine, you'll love this colorful salad.  And my sister, a hominy fan, will be glad I finally posted it!
Yield:   4 to 6 servings as a main course
1-10 ounce package frozen broccoli, completely thawed and drained
1-15.5 ounce can chickpeas, rinsed and drained
1-15 ounce can white hominy, rinsed and drained
1 larged tomato, cored and diced
Dressing (recipe follows)
Gently combine all ingredients in a large bowl.  Drizzle dressing over, and toss again gently to distribute.  Check for seasoning and adjust if necessary.  Cover and refrigerate for at least 2 hours to allow flavors to marry.
Dressing:
3 tablespoons olive oil
1 tablespoon lime juice
1 teaspoon maple syrup
1/2 teaspoon ground cumin
1/4 teaspoon garlic powder
Sea salt to taste
Black pepper to taste
Whisk together all ingredients in a small, non-reactive bowl or cup.