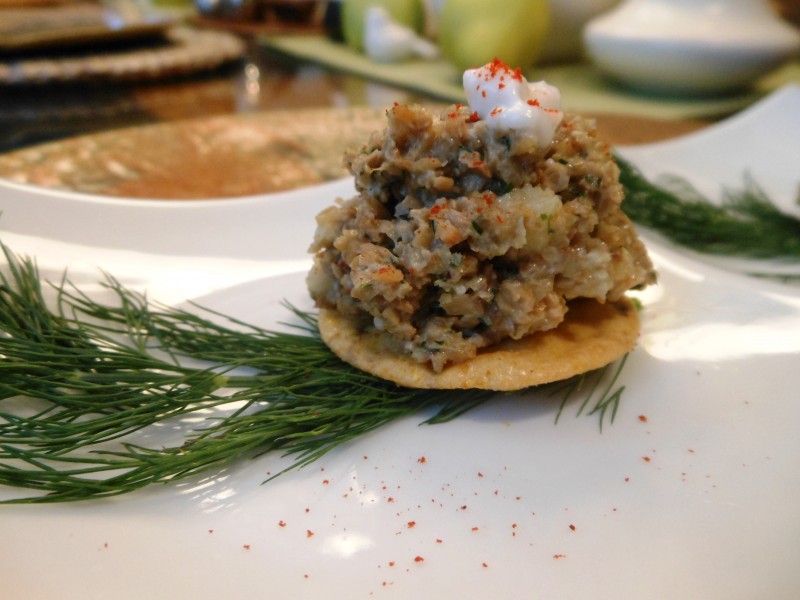 Yield: approximately 4 cups "tuna" salad
On Mother's Day, my phenomenal weekend yoga instructor, Angela Philips, mentioned after our morning class that she had prepared her "Nutty Tuna," made with sunflower seeeds, for her Mother's Day brunch.  She had given me that recipe years ago and at the mere mention, I began craving it.
So I made a batch on Monday, but it wasn't quite right.  I hadn't consulted the recipe, choosing to make it from memory instead, and, among other things, I went overboard on my substitution of Nori powder for dulce flakes and used an inferior mayo I had on hand that had been given to me.  Honestly, it was kind of a dud.  I ate a fair amount of it during the week so as not to be wasteful, but it was off the mark, and I discarded the remainder today with little remorse.
But, this past Saturday, I purchased the ingredients I needed, tried it again yesterday afternoon, and I am happy to report that it is delicious.  This time, I consulted the recipe just to see if I needed to adhere more closely and decided that I didn't because, for example, I didn't want to include the parsley it called for and I knew I wanted mayonnaise to adhere all of the ingredients together, while the original recipe relies only on the moistness of the celery, onion, parsley, soaked sunflower seeds and a tiny bit of lemon juice.
From the original recipe, I did decide to use the capers called for instead of the pickle relish I had added last week.   When I was a pre-vegan kid, we always added pickle relish to our tuna salad, but it didn't work so well with this vegan version.  And I added fresh dill, which Angela has started doing too.  Though I associate dill more with "chicken" salad, it is widely known to be compatible with seafood, and it is really nice in this recipe.  In addition, I included some dried apple, as we often chopped up fresh apple in our childhood tuna salad.  Since it is not apple season here and I had some moist and plump dried ones in the pantry, I opted for them and am so glad I did, as they lend just a hint of sweetness.
In the end, this recipe is a little down-home with all the mayo and a little upscale with the addition of capers.  As such, I think it is the best of both worlds and hope you agree.
Be sure to begin soaking sunflower seeds the day before you plan to serve the salad.
14 ounces roasted sunflower seeds (salted or not, but the salt will be drained away after soaking)
1 Nori sheet torn in pieces (or 1 teaspoon Nori powder or dulce flakes)
2 cups warm water
4 celery hearts, trimmed and cut into 2-inch pieces
3 green onions, white and green parts, cut into 2-inch pieces
3 tablespoons drained fresh capers
1 cup lightly packed fresh dill fronds, stemmed and broken in half
Optional but very good: 1/3 cup dried apple pieces (be sure they are moist and plump)
1-2 teaspoons fresh lemon juice
8 to 10 tablespoons Vegenaise vegan mayonnaise (my favorite brand for this, but use the mayo of your choice)
Sea salt to taste
Freshly ground black pepper to taste
Place sunflower seeds and Nori sheet pieces in medium bowl and cover with warm water.  Cover and let stand 8 hours or over night.  Drain, pressing gently, to remove as much water as possible.  Place celery, green onions, capers, fresh dill, optional dried apple, and 1 teaspoon lemon juice in bowl of food processor and pulse until finely minced, scraping down sides of bowl as necessary.  Add drained and pressed sunflower seeds and continue pulsing until sunflower seeds are also finely minced.  Add mayonnaise, submerge into mixture with a spatula, and pulse until well combined.  I prefer almost a spread consistency, but still with lots of texture.  Taste and adjust seasoning with salt, pepper, and additional teaspoon of lemon juice, if desired.  Pulse just to distribute.  Serve immediately or chilled on a sandwich, toasted bagel, stuffed in a tomato, or on crackers.  Note: if you desire a more pronounced flavor of the sea and a darker color, use Nori powder or dulce flakes and add them to the mixture in the food processor rather than to the soaking water.