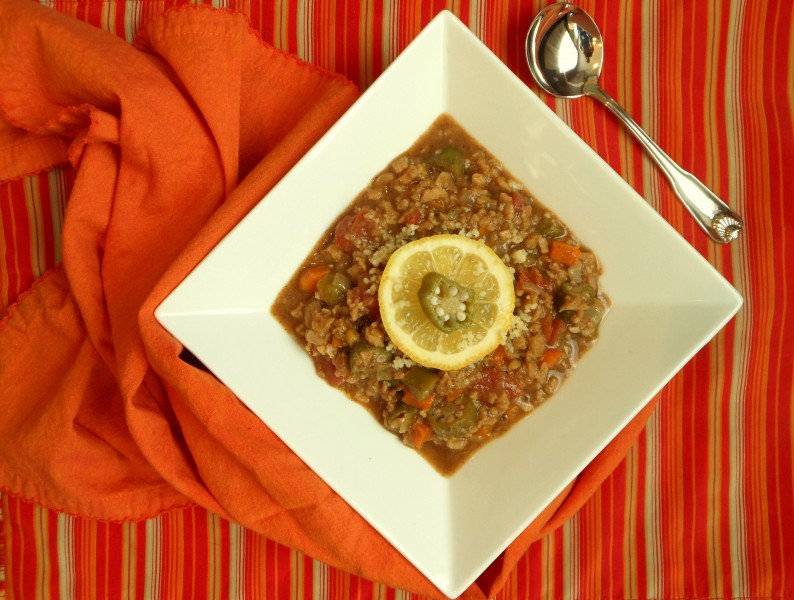 In March, the good folks at VegNews published my Vegan Seafood Gumbo in "Recipe Club," their e-newsletter, which I shared here on The Blooming Platter (just follow the link).
Not too long after that, the kind folks at Navitas Naturals sent me a sample of their delicious and nutritious organic Nori Powder (roasted seaweed powder) with which to experiment.  I didn't get to it right away, but recently, with friends coming for dinner to whom I had promised gumbo, I decided to use the Nori Powder instead of Nori sheets in the gumbo stock, as I was out of the latter.
Brilliant!  After a little research, mostly based on protein content, I determined that 1 teaspoon of Nori powder is the equivalent of 1 Nori sheet, and that worked out perfectly.  Both lend to the stock that deeply seductive briny flavor of the sea.
Plus, there is an ocean (couldn't resist–sorry!) of uses for Nori powder.  It can be dissolved in just about anything to enhance  flavor and nutrition (protein, vitamins, minerals, and fiber), e.g.  soups, stews, purees, sauces, doughs, fillings, etc.  And it is certified organic, kosher, non-GMO, gluten-free and raw.
Enjoy this great new product and my Seafood Gumbo recipe which they have generously published on their site!