What does one do when Alisa Fleming, founder of GoDairyFree, asks if you have a recipe for Halloween to share with readers of her website?  You get busy!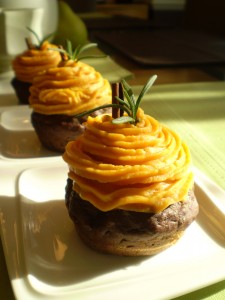 I have created quite a few recipes for pumpkin dishes, which are here on my blog and in my new cookbook.  But I really didn't have anything fun, different and delicious in traditional Halloween colors.
However, since I love a challenge, I created a recipe especially for her readers and it's exciting to be able to share it with you: Vegan Savory Black Bean and Salsa "Cupcakes" with Whipped Sweet Potato "Frosting"!
My first attempt was a bust.  Those dry and flavorless bad boys–and I do mean bad–ended up out in the woods on our property!  But after some brainstorming, it occurred to me that I could use super flavorful salsa for both flavor and moisture and that did the trick–yum!
Sound odd?  Well, this recipe is a little out of the ordinary, but Alisa and I think the cupcakes are so good it's "scary" (sorry, I couldn't resist the corny Halloween reference.)  She writes:
"I'm very excited for the recipe feature we have today from the talented cookbook author, Betsy DiJulio. Betsy's creativity is second only to her ability to create appealing, healthy, comfort food recipes. She never fails to surprise with unique ideas, but they are always very doable and delicious. Today's recipe is certainly no exception. It pairs simple everyday dinner ingredients with an unexpected format, cupcakes! Since they are savory, and made without any sugar, Betsy uses salsa to add extra moisture and flavor …"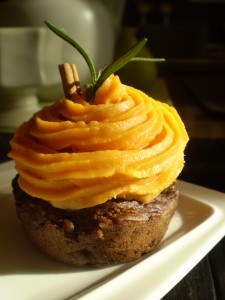 Just follow this link for the simple recipe.  And Happy Halloween!