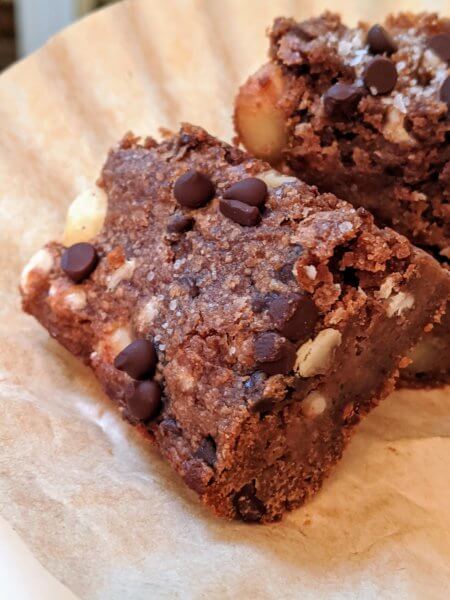 Yield: 9 to 16 bars
These devastating bars were inspired by the classic combination of white chocolate chips and macadamia nut cookies. But I had some chocolate chips on hand, both of them the miniature variety, so I added those too.
My recipe calls for pecan butter, though you can substitute whatever nut butter you choose. Pecan butter is, hands down, my absolute favorite for baking. It may have to do with being a southern girl, but I think it had more to do with the outrageously rich and delicious flavor.
Note that, like mini nut butters, the pecan variety comes with a layer of oil on the top. I processed it in the food processor and put what I didn't need back into the jar so that I didn't have to waste time trying to stir it together.
You may find the optional addition of a half teaspoon of apple cider vinegar to be strange. But, trust me, it really balanced the flavors. I'm not sure why, but when I tasted the dough, It cried out for just the barest hint of apple cider vinegar. I hesitated to add it because it seemed odd and I have never seen it in another recipe, but it was perfect.
Please be aware that these bars do not hold together when warm. They are delicious if you want to crumble them over vegan ice cream for a sundae, but don't think the recipe has failed. I have not completely cooled the bars in the pan at room temperature and that might be enough. Rather, since I knew that I wanted nice neat cuts, I refrigerated them overnight in the pan, covered. That worked beautifully and the slight chill did not negatively affect their flavor.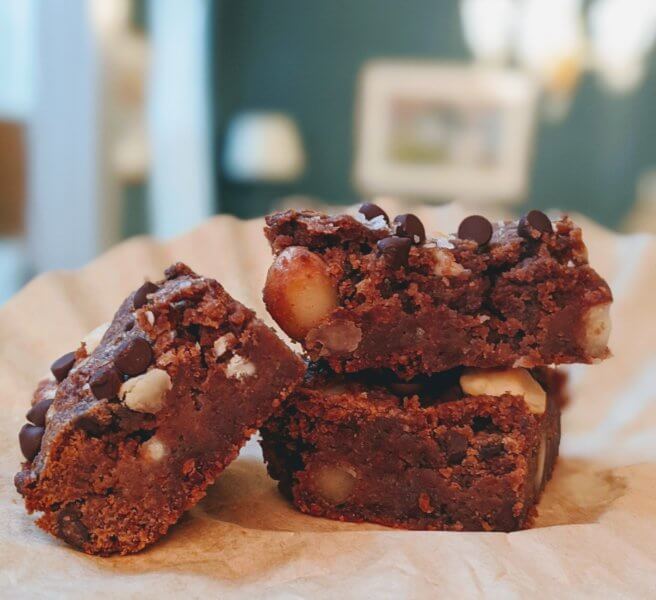 Black and White Chocolate and Macadamia Nut Chickpea Blondies (vegan & plant-based)
Yield: 9-16 bars
1-15.5 oz can chickpeas, rinsed and drained
1/2 cup pecan butter (you may substitute any nut butter)
1/3 cup brown sugar or maple syrup
1/2 tsp sea salt
1/4 cup baking powder
1/4 cup baking soda
Optional: 1/2 tsp apple cider vinegar
1/3 cup vegan white chocolate chips
1/3 cup vegan chocolate chips
1/3 cup chopped macadamia nuts
Topping:
2 tablespoons vegan white chocolate chips
2 tablespoons vegan chocolate chips
2 tablespoons chopped macadamia nuts
optional: course sea salt
Preheat oven to 350°. Oil an 8-in square pan, line with parchment paper, and re-spray. Place all ingredients except white and dark chocolate chips and Macadamia nuts in food processor. Process until very smooth. Transfer to medium bowl and fold in 1/3 cup each chips and nuts. Spread evenly into prepared pan. Sprinkle remaining two tablespoons each of chips and nuts over the top, pressing gently into the surface. If desired, sprinkle with a small amount of coarse sea salt. Bake for 25 minutes. Cool on wire rack. Refrigerate covered. Slice and serve.
#vegan #veganrecipes #veganfoodshare #veganfoodporn #plantbased #plantbasedrecipes #plantbasedfoodshare #plantbasedfoodporn #veganblondies #plantbasedblondies #whitechocolatechipandmacadamianut