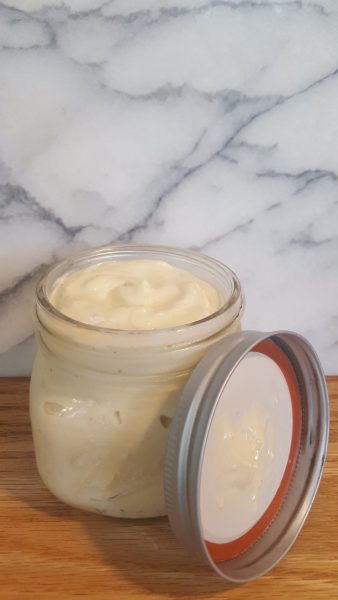 Ah, vegan mayo.  I love it so.  But, alas, at 100 calories per tablespoon–sadly, no different than egg- and oil-based mayo–I don't allow myself to indulge nearly as much as I would like.  Or I end up having to log extra miles just to burn it up.  Enter Blooming Platter Mayo which I created in 2010 for The Blooming Platter Cookbook: A Harvest of Seasonal Vegan Recipes.
My Mayo, made with regular tofu, contains only 10 calories per tablespoon so you can slather it on to your heart's desire.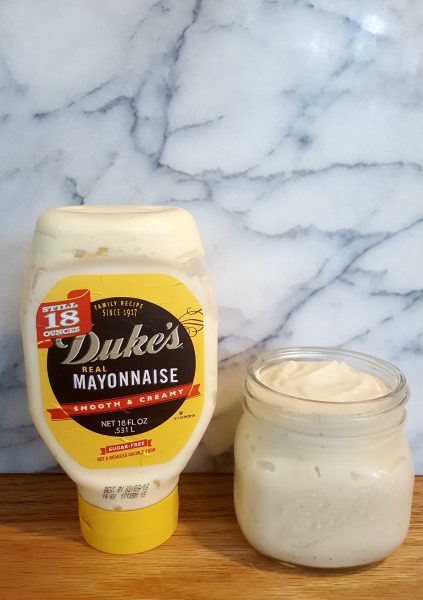 My dear omni friend, Allison Price, attests to keeping a container in her fridge at all times and I suggest you do the same.  I love "Just" brand mayo, Vegenaise, and all the rest.  But both the calories and the price tag are a bit too high for me.
This mayo blends up in a few seconds with 12 very basic ingredients.  A dozen may sound like a lot, but I tested and tasted, carefully balancing all of the flavors to create what I consider to be the perfect balance and I assert that the recipe needs all of the ingredients in these amounts.
BUT, everyone's palate is different–and mine has changed–so adjust accordingly.  My cherished partner, Bob eats like a 10 year old midwestern boy–and will only eat Duke's "real" mayonnaise.  So, with a jar in our fridge, I tasted miniscule amounts of it for comparison as I was making today's batch.  I ended up using 2 tablespoons of apple cider vinegar, as opposed to the original recipe's 2 teaspoons, as a result.
I also added another pinch (1/8th teaspoon) of sweet paprika for a total of 1/4 teaspoon.  And, since the cookbook was published, I have discovered black salt (which is really grayish pink) with its distinctive sulphery and eggy taste.  So I used that in place of the original 3/4 teaspoon of salt, but I added some additional sea salt necessitated, I thought, by the greater amount of vinegar.  FInd black salt online or in Indian markets.
Here's to a long-lasting love affair with mayo!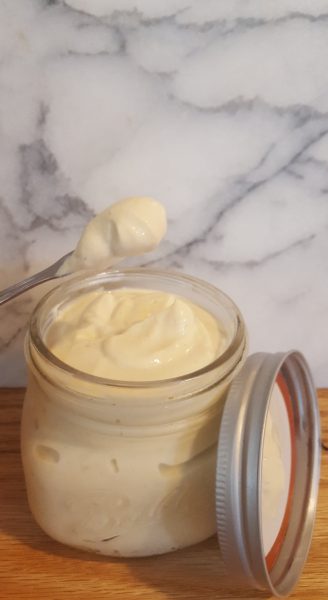 Blooming Platter Vegan Mayo
12 ounces extra firm Silken tofu OR 14 ounces firm regular tofu + 2 tablespoons water
2 tablespoons apple cider vinegar
1 tablespoon fresh lemon juice
1 teaspoon granulated sugar
1 teaspoon nutritional yeast
3/4 teaspoon black salt or sea salt
1/2 teaspoon garlic powder
1/4 teaspoon onion powder
1/4 teaspoon sea salt
1/4 teaspoon freshly ground black pepper
1/8-1/4 teaspoon sweet paprika
1/8 teaspoon turmeric
Process all ingredients together in food processor until thick and very creamy, scraping down sides of bowl as necessary and adjusting seasoning if necessary.  Store in an artight containter in the refrigerator.