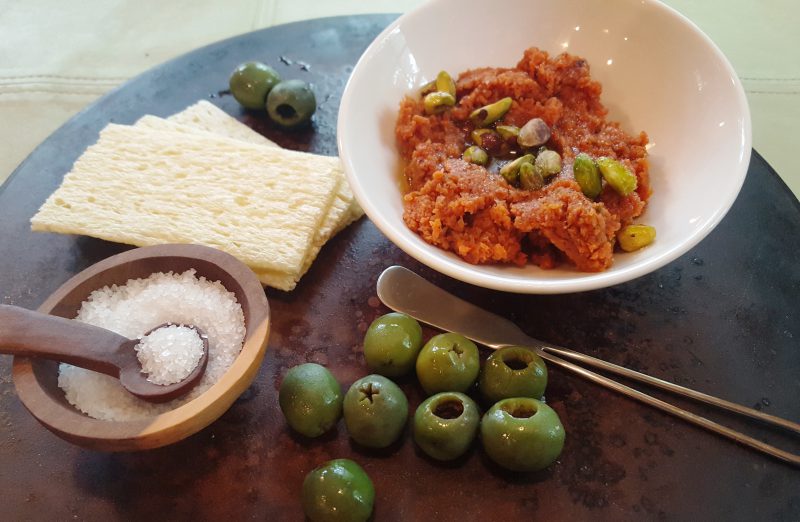 Yield: approximately 1 cup
(for recipe, please scroll down)
Before my husband passed away in July, I never shopped at Whole Foods due to the expense, but it has become a little treat I give myself.
In some ways I find those activities and events that are exactly the same in his absence–like grocery shopping–more emotionally challenging even than the birthdays, holidays, and special occasions.  Perhaps it's because I steel myself for the latter, shaping them in a way that plays to my strengths and minimizes my vulnerabilities.
But a couple of parties in both November and December required trips to Whole Foods.  The first was Joe's posthumous birthday party that his sisters and I hosted at Total Wine for which we supplied the food (and decided that tapenade layered over hummus was our favorite new obsession).  He had purchased a wine tasting at a silent auction, but we never used it, and this seemed the perfect occasion.  The second event was my my annual all-girls Christmas, Chanukah, Curry & Cakes Party & Swap.  Joe wasn't a part of it, but he always put in an appearance to everyone's delight.
With my dear friend Donna Reiss in town to help me–emotionally and logistically–prepare for the fete, we chose a vegan menu that required a trip to Whole Foods.  With fond and tender memories of our outing, I decided that grocery shopping was a bit more bearable in the more "curated" environs of a store like WF who embraces, at least to some degree, my values. (Somewhere my museum curator friends just felt a stab in their sides because they deplore the way the word "curated" has been conscripted for marketing everything from groceries to jewelry to housewares.)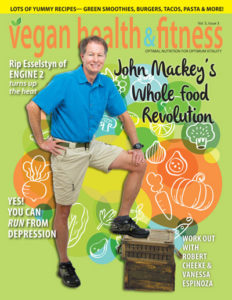 Speaking of Whole Foods' values, the June 2016 issue of Vegan Health and Fitness Magazine (which I purchase at Whole Foods), includes a really thorough, fair, and balanced article about John Mackey, Whole Foods' co-founder and co-CEO, who is controversial to some because, though he is vegan, his store is not.  Still, both editor Brenda Carey's "Letter" and the article (on p. 52) make a convincing case for why Mackey should be applauded rather than derided for the compassionate and conscious changes he is helping bring about in the food production chain.
Now, I go most Saturdays and sometimes during my planning block at school to stock up on lunch items.  Sometimes I go with a list; most often I just respond to the aesthetics of the produce and purchase what catches my eye, figuring out what to do with it later.  I usually create new recipes though, occasionally and shamefully, I let some of it go to waste and end up composting it.  I would claim that it is because I am not accustomed to shopping and cooking for one, but who am I kidding?  I didn't shop or cook for Joe in recent years, as he was a committed and unapologetic carnivore who eschewed most vegetables for more meat.  It's more the case that I don't consume nearly as much food as I used to.
But this carrot-beet spread is perfect for a mini-meal, as is my preference these days: healthy, beautiful, tasty, and satisfying.  It is worth trying to find the pomegranate or tamarind syrup and the sumac at a Middle Eastern or international market or even online.  But if you can't, I provide substitutions below.  Sumac bushes produce red berries that are dried and ground to a powder that is used in Middle Eastern cuisines.  The flavor is lemony, but mellow, rounded and a hint earthy.  Lemon zest is a fine substitute, but definitely with zingier flavor notes. Similarly, maple syrup or agave nectar will contribute the desired sweetness and texture to the spread, but not deliver quite the desired authentic flavor of the Middle East.
If you or those for whom you cook think they are beet-haters, this recipe, along with some others here on The Blooming Platter, may change their minds.  But, if not, just substitute another couple of carrots.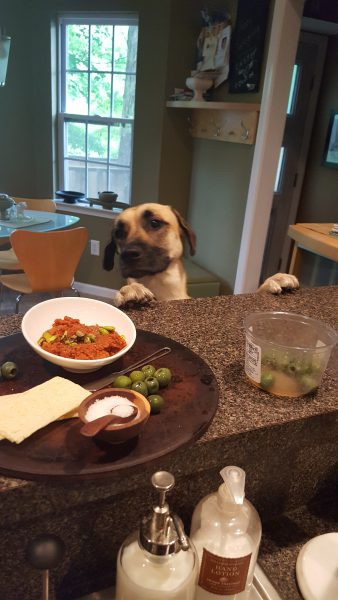 Roasted Middle Eastern Carrot-Beet Spread
6-6 to 7-inch carrots, any color (I use a tri-color bunch), peeled and cut into 2-inch pieces
3 small golden (or red) beets, about the size of a plum or a half-fist, peeled and quartered
2 tablespoon + 1/4 cup olive oil
Sea salt and freshly ground black pepper to taste
1 large garlic clove
1 teaspoon pomegranate, tamarind, or maple syrup or agave nectar
1/2 teaspoon ground sumac (or lemon zest)
1/4 teaspoon ground cumin
1/4 teaspoon smoked paprika
Garnish: 2 to 4 tablespoons of pistachios
Accompaniments: crackers, toasts, green and/or black olives, and finishing salt
Preheat oven to 450 degrees. Toss carrots and beets with 1 tablespoon olive oil and a generous pinch of salt in a large baking pan.  Roast for 20 to 30 minutes or until tender and caramelized to your liking.  Remove from oven, place in the bowl of a food processor with all other ingredients and process until as smooth as desired, scraping down sides of bowl as necessary.  Taste and adjust all seasonings as desired.  Transfer to a bowl, drizzle with remaining 1 tablespoon olive oil, and sprinkle with pistachios.  Serve with crackers, toast, olives and finishing salt (I use a little salt cellar of coarse sea salt).