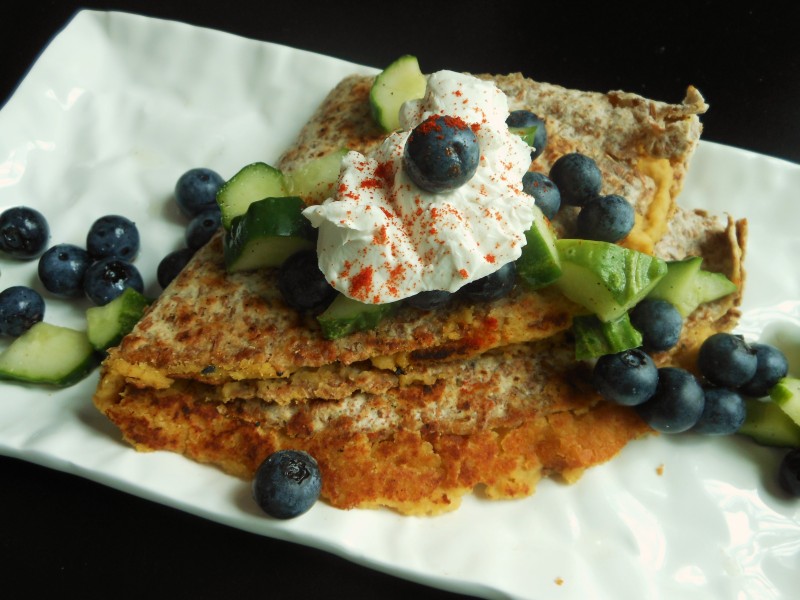 To call this quick-fix meal a recipe is a bit, of an overstatement.  It is, perhaps better described as a "formula," though that doesn't sound awfully appetizing.
So, let's just call it a terribly tasty "idea" that can be adapted in a multitude of ways in your kitchen.
I simply spread half of a sprouted grain tortilla with some homemade in-your-face garlic hummus that a friend of Joe's sent home with him.  Rich is an unlikely cook by some estimations, but a gifted one just the same; and he shares my appreciation for bold flavors, though he is scarcely vegan!
Next, I folded the tortilla over the filling, grilled it in a non-stick pan, and then folded it over again, topping it with the world's easiest salsa, a dab of vegan sour cream, and a sprinkling of smoked paprika.
Here's all you need for 1 fantastic Quesadilla (easily multiplies):
1-8 inch tortilla (I like Ezekial sprouted grain tortillas, available at health food stores and some grocery stores)
1/3 cup garlic hummus, homemade or prepared (or your favorite kind)
1/4 cup Cucumber-Blueberry Salsa ("recipe" follows)
Garnish: 1 tablespoon vegan sour  cream and a sprinkle of smoked paprika
Spread half of tortilla with about 1/3 cup hummus.  Fold tortilla over hummus and grill in a cast iron skillet sprayed with non-stick spray for 2 to 3 minutes or until golden brown on each side.  Fold over again, place on serving plate, top with Vegan Cucumber-Blueberry Salsa, a dollop of sour cream, and a spoonful of Cucumber-Blueberry Salsa.  Serve immediately.
Vegan Cucumber-Blueberry Salsa
Combine equal parts diced cucumber (I use the pickling variety, but use what you like) and fresh rinsed and dried blueberries.  Toss with sea salt, freshly ground black pepper and garlic powder to taste.  For best flavor, chill several hours or overnight before serving.