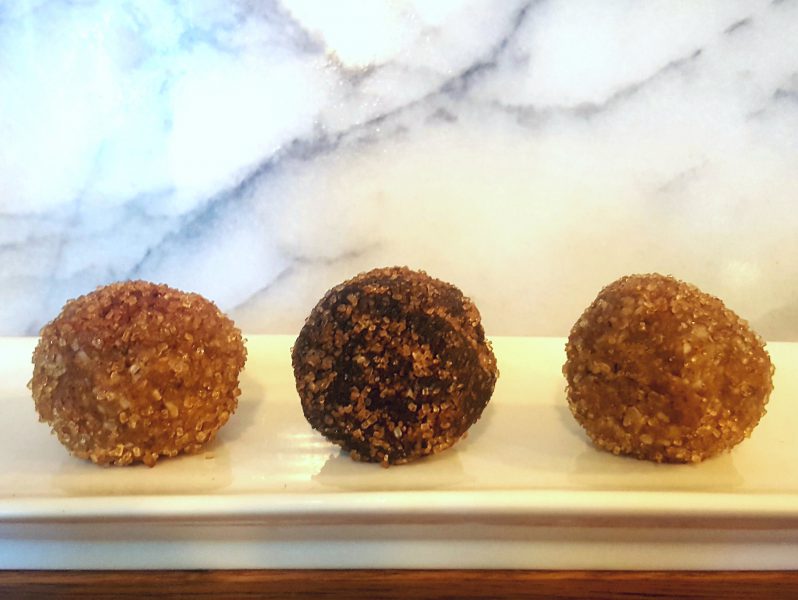 Yield: 1 dozen donut holes
I had experimented with a recipe previously, but I wasn't happy enough with it to post it. This time I am!
These are delicious, but bear in mind that they are far more calories than a fried vegan donut hole. Loaded with nutritious ingredients like walnuts, dates, unsweetened coconut, Chia and flax seeds, and for the chocolate ones, cocoa powder, they pack a punch of 150 calories each, almost as much as a regular whole vegan donut.
Yes, they are power-packed, but the scale doesn't know that, so enjoy in moderation.
Blooming Platter Raw Vegan Donut Holes–
Cinnamon-and-Sugar or Chocolate
1 cup walnut halves and pieces
1 cup whole moist dates
1 cup unsweetened coconut shreds or chips
2 tablespoons chia or flax seed meal, or a combination
1/8 to 1/4 teadpoon fresh ground nutneg (don't omit; nutmeg lends the holes their distinctive donut-y flavor
Optional: for Chocolate variety, add 2 tablespoons cocoa powder or add 1 tbsp to 1/2 the dough if you want one half dozen cinnamon-and-sugar and one half dozen chocolate
Cinnamon-and-Sugar Coating Coating (recipe follows)
Place all ingredients in bowl of food processor and process until the mixture is homogeneous and holds together. Form into 12 tight balls and roll in cinnamon-sugar coating.  Store in airtight container in refrigerator. Allowed to come to room temperature before serving if desired.
Coating:
2 tablespoons demerera sugar
1/2 teaspoon ground cinnamon
Mix together in a small cup.
#vegan #veganrecipes #veganfood #veganfoodshare #veganfoodporn #plantbased #plantbasedrecipes #plantbasedfood #plantbasedfoodshare #plantbasedfoodporn