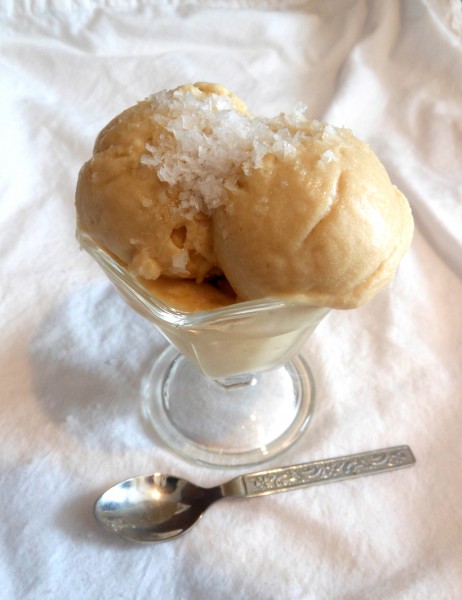 I am THRILLED to share with you my new recipe–a Tofutti exclusive–for Sea Salt and Caramel Ice Cream just in time for July 4!
I don't know about where you live, but here it is heating up quickly and nothing beats the Coastal VA heat like cool, creamy ice cream, especially one with a little crunchy flaky salt to replace all that is lost in that summer sweat.
Picking a favorite recipe is akin to picking a favorite child (or dog, in our case) but, I have to say, this may well be, at least, my favorite ice cream.   I highly recommend splurging slightly on Maldon Salt Flakes, though you could certainly get away with any flaky sea salt.  It just won't have quite the same feathery mouthfeel, like an ethereal snowflake.
Is it easy?  You bet is is!  Even making the caramel syrup is a breeze, though I recommend a simple clip-on candy thermometer to make sure it reaches just the right temperature/consistency!
Assert your independence from dairy and make sure this stunning recipe is on your Independence Day menu, though I suspect you will be making it all year!  A friend and fellow cookbook author's husband said after enjoying a scoop, "The last bite is such a sad moment."  Indeed.  So make lots!