In honor of Vegan MoFo 2011, as many of you know, it is my pleasure to offer a giveaway of my brand new cookbook, The Blooming Platter: A Harvest of Seasonal Vegan Recipes.  It's simple to enter.  Just go here for all the tasty details.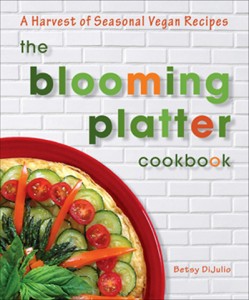 And to entice you into entering and, oh, I don't know, purchasing a few copies as Christmas gifts, following is a photo and an excerpt from one of many generous reviews on Amazon:
"I am seriously impressed with the recipes in Betsy DiJulio's new book THE BLOOMING PLATTER COOKBOOK.
"These are some of the most elegant and impressive recipes I have ever seen collected between two covers yet each one is easy doable by any cook."   ~Terri Merritts