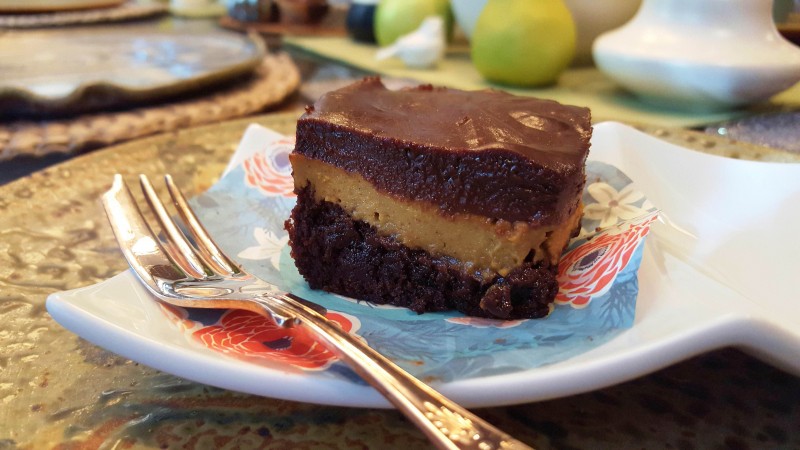 Yield: 1-8×8″ pan of brownies
These are the perfect fall treat: chocolate always understands and pumpkin is just the perfect personification of everything appealing about autumn.
Brownie Layer:
1 box or bag of brownie mix that calls for only 1 egg, and contains no dairy products in the mix (I use Marie Callender's "Restaurant Style" 10-0unce Chocolate Fudge Brownie Mix, sold locally at our Dollar Tree)
1/4 cup vegetable oil
3 tablespoons water
1 tablespoon espresso powder or instant coffee
1/4 cup canned pureed pumpkin (not pumpkin pie mix)
1/2 teaspoon baking powder
1/4 teaspoon baking soda
Pumpkin Cheesecake Layer:
3/4 cup canned pureed pumpkin (not pumpkin pie mix)
4 ounces (1/2 cup) vegan cream cheese
1/2 cup sugar
1/4 cup flour
2 tablespoons maple syrup
1/2 teaspoon vanilla extract
1/2 teaspoon ground cinnamon (or pumpkin pie spice)
1/2 teaspoon baking powder
1/4 teaspoon baking soda
1/4 teaspoon sea salt
Ganache Layer:
1/2 cup non-dairy creamer (like soy or coconut)
4 to 5 ounces vegan chocolate chips
Spray a metal 8 x 8-inch baking pan with non-stick spray.  (Optionall: cut a 3-inch wide strip of parchment paper long enough for ends to overhang sides of pan, press into bottom and up and over sides, and spray again with non stick spray.)  Make brownie layer: in a medium bowl, whisk together all ingredients until well-combined and then whisk for 50 strokes.  Spread evenly into prepared pan.  Make pumpkin layer:  place all ingredients into the bowl of a food processor and process until smooth, scraping down sides of bowl as necessary.  Gently smooth pumpkin mixture over the top of the brownie layer, spreading to cover.  Using a skewer or a knive, make narrow zig-zag lines through both layers from side to side, turn pan one-quarter turn, and repeat to make perpendicular lines.  Bake for 25 minutes or until brownies are set and no longer glossy on top.  Cool completely on a wire rack.  In the meantime, make ganache: heat creamer in microwave or a saucepan until very hot or just begining to bubble (about 1 minute or so in microwave).  Whisk in chocolate until melted.  Allow to rest at room temperature while brownies cool; mixture will thicken as it cools (speed process by refrigerating for a few minutes, if desired).  Gently pour and spread ganache over pumpkin layer of brownies.  Refrigerate for a couple of hours or until set before slicing and serving.