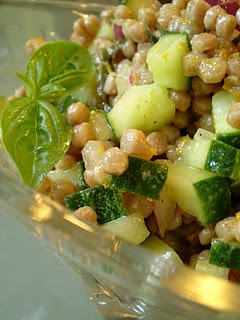 Yield: approximately 6 servings
There is something about the pleasantly chewy whole-wheat cous-cous, the juicy-crunchy cucumber and red onion, and the fragrant basil bathed in a decadent, but light, citrusy dressing that makes one bite feel like you have just done something very nice for yourself.
Salad
1 cup Israeli whole wheat cous-cous (you could substitute regular cous-cous and or the non-whole wheat Israeli variety), prepared according to package directions
1/2 of a medium red onion, peeled and finely diced
1 cucumber, halved lengthwise, seeded and finely diced (I leave the skin on for color and nutrition)
1 tablespoon fresh basil chiffonade (stack leaves, roll tightly, and slice into very thin ribbons)
zest of one orange
juice of one lemon
Coarse sea or kosher salt to taste
Fresh ground black pepper to taste
Vegan Champagne Vinegar Vinaigrette (recipe follows)
Optional garnish: sprig of fresh basil and/or a fresh orange segment
In a medium bowl, gently toss all ingredients together. Drizzle dressing over, toss gently again, chill and serve over an optional bed of baby greens or watercress with an optional basil sprig garnish. If desired, you can reserve a tiny bit of dressing (or make extra) to toss with the greens.
Vegan Champagne Vinegar Vinaigrette
1 tablespoon champagne vinaigrette (it's expensive, but worth the extra cost for an occasional splurge)
3 tablespoons extra-virgin olive oil
Coarse sea or kosher salt
Freshly ground black pepper
Whisk all ingredients together in a small bowl or cup.
Optional baby greens or watercress