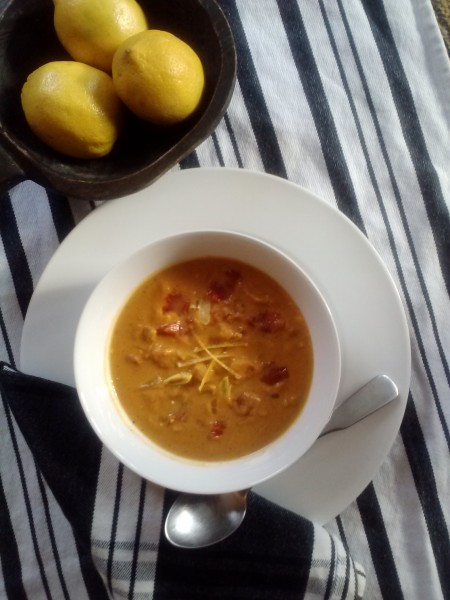 Yield: 6 serving
Necessity was definitely the mother of invention with this soup: I was hungry for dinner and there was a can of diced tomatoes and pureed pumpkin in the pantry, and lemons and Tofutti Better Than Cream Cheese in the fridge.  Voila: soup!  I was drinking a glass of wine while I was cooking, so in went some of it and, honestly, not a whole lot more save some aromatics, spices, and veggie stock.
The results received raves from three friends who were recipients: my yoga teacher (who is a foodie and cooking instructor in her own right), and two others who are nursing some kind of bug that is going around, both also excellent cooks and, as it happens, artists, one of whom took the photo at right before she and her husband tucked into it. Her photo has an artist's touch no?  She said I should describe this recipe as, "The soup that briangs you back!"
1 tablespoon olive oil
1 medium yellow onion, diced
1 teaspoon sea salt or to taste
3 large cloves garlic, finely chopped
1 tablespoon dried sage
1 teaspoon smoked paprika
1/2 teaspoon freshly ground black pepper or to taste
1/2 teaspoon dried thyme
1/4 teaspoon turmeric
1-28 ounce can diced tomatoes
1-15 ounce can pureed pumpkin (not pumpkin pie mix)
Optional: 1 tablespoon nutritional yeast
4 cups vegetable stock
1/2 cup dry red wine
4 ounces vegan cream cheese
1 teaspoon lemon zest (do not omit–adds such a lovely freshness!)
Heat olive oil in a 4-quart saucepan over medium-high.  Add onion and 1 teaspoon salt and saute, stirring frequently, for 3 minutes.  Add garlic and spices and continue sauteing, stirring constantly, for another minute.  Add tomatoes and pumpkin and stir until well combined.  Whisk in stock, 1 cup at a time, followed by red wine.  Heat through and then add vegan cream cheese in pieces, whisking until completely melted.  Stir in lemon zest and serve.