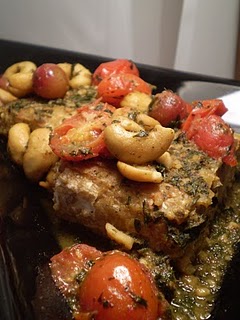 Yield: 2 servings
Here's another of those high protein, not-too-terribly-caloric dinners that are part of my new nutritional plan. I almost have something to wear for this big (at least, to me) event that is responsible for the dietary modification, so more on it soon.
1-8 ounce package of tempeh
coarse sea or kosher salt to taste
a sprinkling of nutritional yeast + 1 teaspoon
1 tablespoon olive oil
1/2 cup vegetable broth
1/2 cup white wine (I used Reisling)
1 tablespoon vegan pesto
1/4 cup plain soy creamer
pinch garlic salt
freshly ground black pepper
16 grape tomatoes, halved lengthwise
12 red seedless grapes (if large, use six and halve them–mine were very small; green would also be good)
1/4-1/3 cup nuts (I used cashews because my pesto was made from basil, mint, cilantro and cashews)
1 tablespoon dried or 3 tablespoons fresh minced parsley
Preheat broiler. Liberally salt and sprinkle both sides of tempeh slab with nutritional yeast. Broil 3 minutes on each side. When tempeh has cooked, remove from oven and cut into 4 equal pieces. Meanwhile, in a large cast iron skillet, heat 1 tablespoon of olive oil to shimmering. Add the teaspoon of nutritional yeast and toast lightly. Add broth and wine and simmer until it reduces just a little and thickens slightly. Stir in vegan pesto and soy creamer and simmer until, again, sauce thickens slightly. Season with garlic powder and pepper. Add tomatoes and grapes and just heat through. Stir in nuts and parsley. To serve, spoon sauce over tempeh.