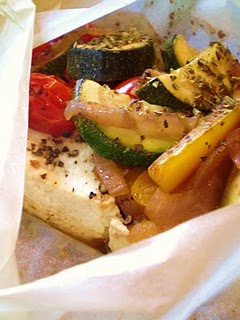 Yield: 8 servings
This has become one of my newest go-to recipes for dinner guests, though I made it today for lunch. It's beautiful, light, healthful and a little special because of being baked en papillote or in parchment paper. I found the recipe online (see "Source" below), but it called for grouper. I simply substitute tofu, cut the onion in half before slicing, substitute yellow or orange bell pepper for the green and use a little less olive oil but, otherwise, I leave it as is. It's perfect accompanied by a simple salad such as my Vegan Shitake-Cucumber-Herb Salad or my Vegan Israeli Cous-Cous Summer Salad with Champagne Vinaigrette.
2-12 ounce boxes of firm or extra-firm tofu (not Silken), placed on a cutting board with a plate and weight on top to press out excess moisture, and then sliced lengthwise into 4 equal pieces
8 rectangles of parchment paper about three times as wide as a piece of the tofu
optional: 16-4 inch lengths of kitchen twine
2 points of grape tomatoes (roasted in a dab of olive oil at 400 degrees for 10-15 minutes, just until they barely start to shrivel)
2 tablespoons olive oil
1 medium red onion, peeled, halved and sliced
1 yellow or orange bell pepper, sliced
1 tablespoon of minced garlic
1/4 cup of dry white wine or sherry (the sherry is my addition and it's a nice alternative)
1-2 unpeeled zucchini, halved lengthwise and then sliced into 1/4-1/3″ pieces
coarse sea or kosher salt to taste
freshly cracked black pepper to taste
1/4 cup fresh basil chiffonade (stack leaves, roll tightly and slice very thinly into ribbons) or approximately 1 tablespoon dried basil
1 teaspoon dried oregano (Greek if you can find it)
a little extra-virgin olive oil
In a large cast iron skillet over medium-high, heat olive oil to shimmering. Add onions and peppers and saute, reducing heat if necessary, for about 6 minutes or until tender. Add the tomatoes, garlic and wine or sherry and simmer for another minute. Stir in zucchini, season to taste with salt and pepper and set aside.
Preheat oven t 400 degrees. Working with one piece of parchment and tofu at a time, set the tofu in the center of one of the rectangles of parchment paper. Season with salt and pepper. Top with 1/8 of vegetable mixture and sauce, and sprinkle with 1/2 tablespoon fresh basil (or 1/8 of the dried) and a pinch of dried oregano. Bring the top and bottom up edges up and over the tofu, slightly overlapping. Hold with one hand while while you secure the ends with the other to prevent any sauce from escaping. Either twist and then tie each end with the twine or fold each end up toward the center a couple of times, crease, fold under one or two times, and crease again. (I never have twine and always use the folding method I devised, which works great, especially with one hand!) Place each parcel of tofu on a large baking sheet and place on the middle rack of your preheated oven for 25-30 minutes. (The lesser time is enough for the tofu and zucchini.) Carefully transfer one packet to each plate and nudge open at the center. Drizzle with olive oil if you like and serve.
Source: Kalofagas–Greek Food & Beyond by Peter Minakis