Yield: 4 servings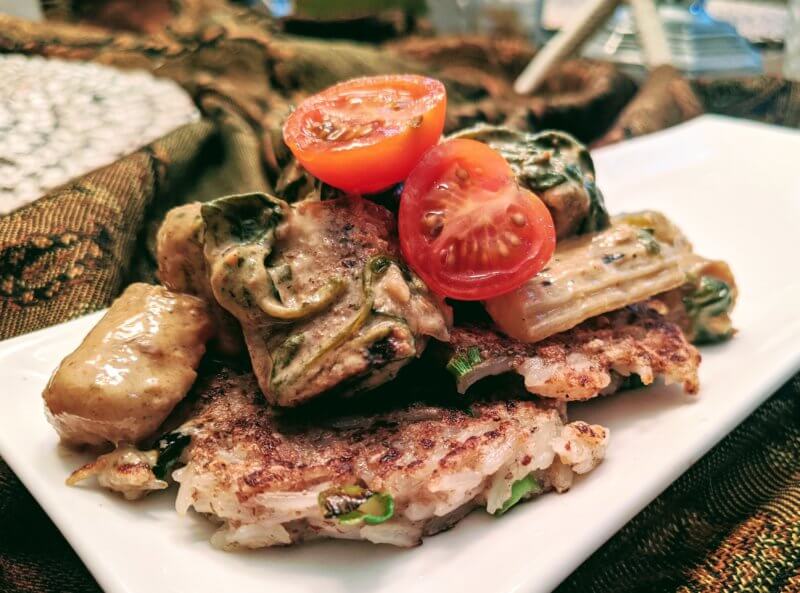 I created this addicting dish out of what I had in the refrigerator, but feel free to substitute leeks for onions, kale or chard for spinach, bell peppers or mushrooms for carrots, and so forth.
I use an indoor grill pan, but you can just "griddle" sausages and celery over medium to medium-high heat in a skillet sprayed with non-stick spray for a couple of minutes until they develop color on both sides.
1 medium onion, cut into slivers and caramelized (I saute until most of moisture has been absorbed in 1 cup water with 2 tablespoons liquid aminos, 2 tablespoons apple cider vinegar, 2 tablespoons monk fruit or brown sugar, 1 teaspoon dark molasses, and 1 teaspoon sea salt)
1 to 2 large cloves garlic, mincef
6 cups loosely packed baby spinach
4 vegan Andouille sausages, halved, grilled on both sides, and sliced 3/4-inch thick
3/4 cup roasted baby tri-color carrots (mushrooms or bell pepper would be fine substitute)
2 stalks celery, halved lengthwise, sprinkled with sea salt, grilled on both sides, and sliced on the diagonal about 3/4-inch thick
1 cup vegetable stock
1/2 cup white wine (I use de-alcoholized Chardonnay)
1 cup vegan half-and-half (I like Silk or Ripple brand)
2 teaspoons Cajun seasoning
1/2 teaspoon smoked paprika
In a large skillet, add to caramelized onions All remaining ingredients and simmer over medium to medium high until a thick sauce develops and luxuriously coats all the other ingredients.
Serve over rice or over my easy, no filler, rice cakes.
#veganCajun #plantbasedCajun #vegan #veganrecipes #veganfoodshare #veganfoodporn #plantbased #plantbasedrecipes #plantbasedfoodshare #plantbasedfoodporn