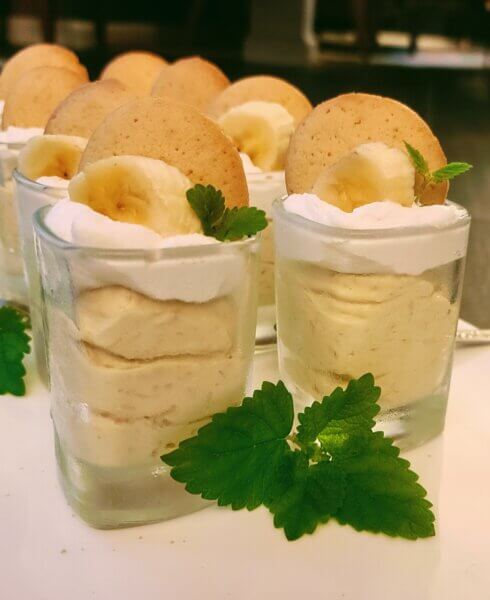 Cool and creamy bite-sized perfection is only only a few minutes of hands-on time away:
8 ounces vegan cream cheese (I use Tofutti)
2 to 3 very ripe bananas + 8 slices or half-slices for garnish (you can brush slices with lemon juice to prevent oxidization)
1/4 cup sugar
1/2 teaspoon vanilla extract
1/4 teaspoon almond extract
1/3 cup non-dairy whipped topping + 1/3 cup more for topping
8 vegan vanilla wafers (I use Whole Foods brand)
With an electric mixer, cream together cream cheese, banana–except slices for topping– sugar, and extracts until very smooth. With mixer on low speed or by hand, fold in 1/3 cup whipped topping. Divide among 8 miniature serving cups or dishes. I like clear glass to show what is inside. And I use a pastry bag to keep it neat. Top with about 2 teaspoons each whipped topping, 1 vanilla wafer, and 1 slice or half slice banana. Refrigerate, covered, until serving time. I like to garnish with a lemony herb, which not only looks pretty, but also tastes delicious with these flavors.
#vegan #veganrecipes #veganfoodshare #veganfoodporn #plantbased #plantbasedrecipes #plantbasedfoodshare #plantbasedfoodporn #vegansofinstagram #vegansoffacebook #vegansofvirginia #plantbasedcheesecake #vegancheesecake #plantbasedbanana #veganbanana #plantbasednobake #vegannobake