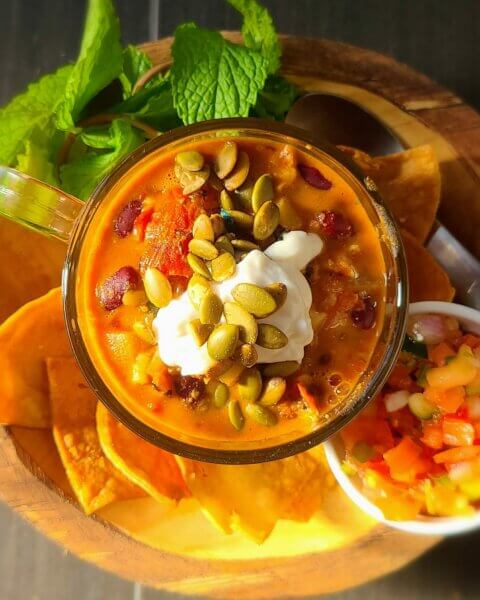 When you are craving a lighter, brighter, and less tomatoey version of the classic with a nod to global fusion.
Cauliflower and Coconut Milk Chili
Yield: 6 servings
1 tablespoon olive oil
1 small onion, diced
1 large garlic clove, diced
1 Poblano pepper, seeded and diced
5 ounces riced cauliflower
1 teaspoon sea salt
1-15 ounce can dark red kidney beans, drained
1 teaspoon adobo
1 teaspoon coriander
1 teaspoon ground cumin
1 teaspoon garlic powder
1 teaspoon onion powder
1 teaspoon smoked paprika
1-15 ounce can fire-roasted tomatoes
1-10 ounce Rotel diced tomatoes and green chilies
1-10 ounce Rotel diced tomatoes with lime juice and cilantro (or, if you want it less tangy, a second can of diced tomatoes and green chilies)
1 cup coconut milk, lite or regular
1 tablespoon maple syrup
Toppings: vegan sour cream and roasted, lightly salted pumpkin seeds, and fresh mint leaves
Heat olive oil over medium in Dutch oven or large soup pot. Saute onion, garlic, pepper, cauliflower, and sea salt until tender. Add all remaining ingredients except toppings, stir well, and simmer for 20 minutes. Serve in cups or bowls, topped as desired.