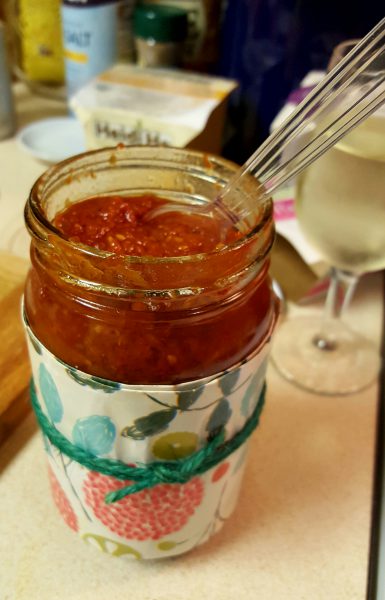 Yield: 2 pints (4 cups)
Please forgive me for ignoring my precious blog and all of you.  You've been on my mind…
As the year anniversary of my husband's death approached (July 30), I found myself struggling a bit emotionally.  It didn't help that, right about the 11-month mark, I began to feel a deep longing for a romantic connection, a concept that had been repulsive up until that point.
There were signs–if you believe in that kind of thing–that it was time to move on in my romantic life [I literally found heart shaped items on the ground in front of me (jewelry, a red felt pouch, etc.)] and, at the suggestion of a friend, joined Match.com.  That could be the subject for many posts, though probably not on a recipe blog.  But, suffice it to say, I have been more than a little distracted for a month, though a vacation last week provided some much-need perspective.
So, instead of a treatice on my looking-for-love life, I offer my tomato jam.
Of late, all of my gardening friends are sharing what appears to be their bumper crops of tomatoes this year: golden pear, cherry, big boys, heirlooms, and more.
Finding myself disappearing under the bounty, but not wanting the fruits of their labors to spoil and go to waste, I wanted to make a batch of something that would use a lot of the tomatoes, produce a manageable quantity–perhaps that I could give as gifts–and not require a lot of my limited time.  So, salsa was out.  I love it, but way too much chopping.  And I rarely eat pasta, so tomato sauce wasn't the answer either.
Since my husband passed away (and since I joined Match!) I've lost 12 pounds and my appetite has gone on holiday.  So I find myself mostly snacking these days–healthy snacking–and love pretty little bites of contrasting tastes and textures.  You know, layers and dollops of this and that.  In the mix there has to be something that packs a little punch, like squirting mustard on a (vegan) hot dog.  So, the idea of a tomato jam occured to me, different than a catsup or a chutney.
I simply tossed tomatoes, onion, and garlic in the food processor and then transferred that mixture to a saucepan with sugar, red wine vinegar, salt, pepper, and smoky paprika (for an extra layer of flavor), simmered it for about a half hour, and added about a tablespoon of fresh basil for a hint of freshness at the very end.  A little bit sweet, it is outstanding served with something a little salty and tangy like a Treeline or Heidi Ho brand vegan cheese on a crunchy cracker or crispbread of some type.
Normally, I wouldn't post a photo of a recipe in which I hadn't cleaned the rim of the serving vessel, but I had forgotten to photograph it at home, traveled yesterday evening to another town for a picnic with it, and realized I needed to snap a quick shot just as we were about to dine, so this is the best I could do.
I didn't properly "can" it using a water bath–no time for that–instead, I simply put it in a clean jar, wrapped a strip of salvaged wrapping paper around it to hide the label–not time to remove it–and tied it with a bit of twine for a cute, casual gift presentation.
Enjoy one of the tastiest gifts of summer!
4 pints (8 cups) tomatoes of any color, including mixed (grape, cherry, larger tomatoes cut into chunks–whatever you have!)
1 small white or yellow onion, quartered
4 large cloves garlic, halved
1/2 cup natural sugar (I like demerera)
1/4 cup red wine vinegar (I used a chianti variety)
1 tablespoon smoked paprika (or try another spice like curry powder)
1 tablespoon sea salt
1 1/2 teaspoons black pepper
1 tablespoon fresh basil chiffonade (leaves stacked, rolled, and very thinly sliced)
Place tomatoes, onion, and garlic in the bowl of a food processor and process until pulpy, but textured.  Transfer to a saucepan and stir in sugar, vinegar, paprika, salt, and pepper.  Simmer on medium-high for about 30 minutes, stirring more frequently toward the end to prevent sticking or scorching, until almost all moisture has been evaporated.  It will cook way down to about half the volume.  Remove from heat, stir in basil, and store, refrigerated, in jars or cartons.  Perfect for gift-giving.