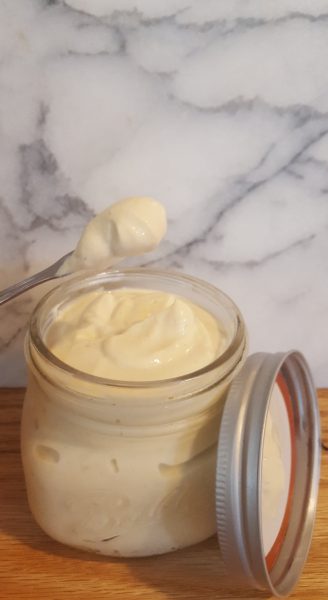 Does this luscious vegan mayo taste exactly like egg-based mayo?  No.  Will you care, especially at only 8 calories per tablespoon?  Absolutely not.  It is delicious and can be used in place of egg-based mayo in tartar sauce and salad dressings, even as a binder for casseroles.
Best Blooming Platter Lo-Cal Mayo
Yield: 2 cups
Note: for speed and convenience, you may use all white vinegar or all lemon juice.  Also, if you like a sweeter mayo, add a hint of stevia.
1 pound firm or extra-firm Silken tofu
1 tablespoon white vinegar
Juice of 1/2 a large lemon (about 1 tablespoon)
1/2 teaspoon garlic powder
1/2 teaspoon mustard powder (or 1 1/2 teaspoons prepared yellow or stone ground mustard)
1/2 teaspoon smoked paprika
1/2 teaspoon sea salt or to taste (delicious with about half black salt, if you have on hand, for a sulphery "eggy" flavor)
Optional: 1/8 teaspoon tumeric powder
Process all ingredients together in food processor until thick and very creamy, scraping down sides of bowl as necessary and adjusting seasoning as desired.  Store in an airtight container in the refrigerator.