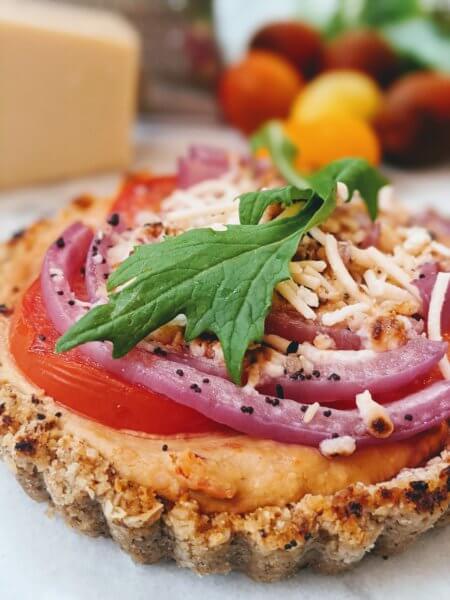 Yield: 4-4″ tartlet or one 8″ tart shell
This may be my favorite crust yet!
Not only is it tasty enough to eat on its own, but it goes together in a snap.
After only 10 to 12 minutes of baking, you can fill it however you choose. It is sturdy enough for whatever you put in it, but not too!
In the photo, I used red pepper hummus, tomato, red onion, and vegan parmesan cheese for a very filling lunch.
If you would rather take this in a sweet direction for a dessert, just omit garlic powder, and add a couple tablespoons granulated or brown sugar.
You may never need another crust recipe!
Press-In Tart or Pie Crust
1 1/2 cup old-fashioned oats (if you are GF, check package label for possible cross-contamination from gluten-containing grains; Quaker Oats produces a guaranteed GF oat)
1/2 cup nuts, salted or not
2 tablespoons tahini
2 tablespoon vegetable oil or olive oil
2 tablespoons non-dairy milk
1/4 teaspoon garlic powder
Optional: 1/4 teaspoon additional ground spices of choice (cumin, smoked paprika, Zataar, etc.)
Optional: 1/8 teaspoon onion powder
Sea salt to taste
Note: if making a dessert, omit garlic powder and any savory spices and add 2 tablespoons granulated or brown sugar
Preheat oven to 350°. Arrange tart pans on baking sheet. Place all ingredients in food processor and process until finally ground and mixture comes together. A little bit of dough, when pinched between your fingers, should hold together beautifully. Press dough evenly onto sides and bottom of pan(s). Bake about 10 to 12 minutes or until lightly golden brown. Fill as desired.
#vegan #veganrecipes #veganfoodshare #veganfoodporn #plantbased #plantbasedrecipes #plantbasedfoodshare #plantbasedfoodporn #vegantartshell #plantbasedtartshell #vegancrustplantbasedcrust #veganpressincrust #plantbasedpressincrust