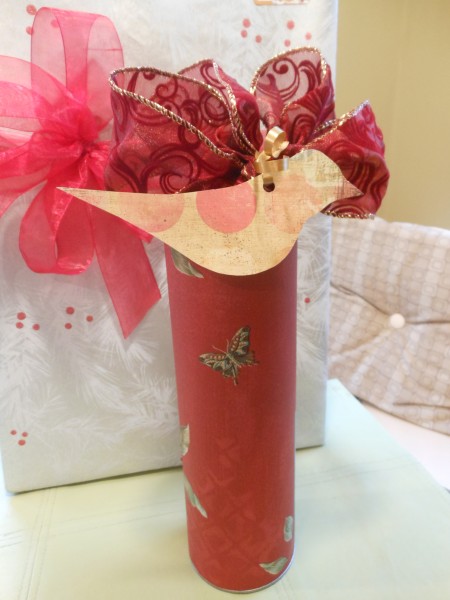 I'm all about recycling, reusing, and reducing, so this idea of unknown origin–maybe Pinterest?–for packaging edible gifts really appealed to me.  It's ingenious!
Not much of a Pringles fan myself, I taught a student last year with an obsession.  So, she would give me her cans when finished, which I would rinse before using, sometimes packaging food gifts inside food storage bags tucked into the cans or, in the case of cookies, just stacking them inside in a neat column.
In need of such a can this morning, I found that I had one left over which I used for the gift depicted here.  Inside the wrapped Pringles can is Vegan Asian Chex Mix for Angela Phillips, one of the best yoga instructors around.  But anything cylindrical will work, e.g. coffee cans or, what my husband and I seem to generate plenty of:  cardboard oatmeal cartons and nut tins.
Be advised that, though scrapbooking paper seems ideal, it is not tall enough for a Pringles can.  So, use wrapping paper or even a wallpaper scrap as I did here.  To wrap, simply cut the length of paper you need (be sure to measure, as it takes more than you would think), secure one edge from top to bottom with cellphone tape, wrap the paper tightly around the can (I lay it down and roll it), and secure the opposite edge top to bottom with more tape.
Then decorate any way you like.  Wrapping ribbon around the can would be the easiest, but the lids aren't particularly attractive, so I tied a bow and then taped the ends on the underside of the lid.  The bow is snugly secured when the lid is snapped onto the can.
The gift tag I made using card stock I had on hand–heavy weight scrapbooking paper actually does work well for this–and a bird template that I had cut to make bird ornaments.  You simply trace, cut, punch a hole near the back of the neck, write your message on the reverse, and thread ribbon through to tie it on to your package.
Never again be left with only expensive "specialty store" options for edible gifts from your kitchen!