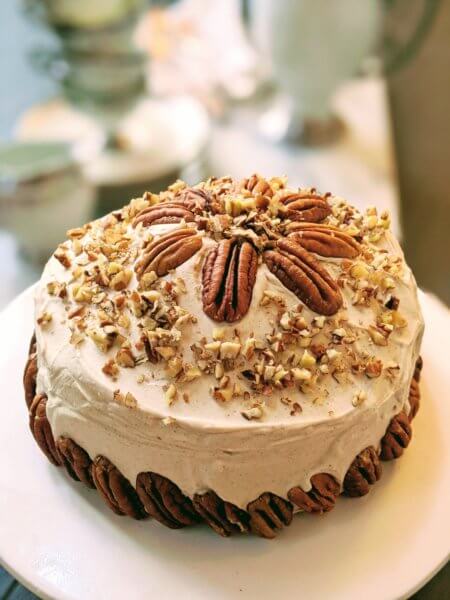 Yield: 1-6″ two-layer cake or 1-8″ one-layer cake
I still wonder how a cake this moist and delicious can only include 2 tablespoons oil. And if you choose Trivia Blend or Swerve brown sugar over regular, no one will ever know. But let's talk about this frosting: after trying one bite of this version with no butter, shortening, or powdered sugar, I doubt I will ever go back. It is creamy, tangy, sweet, and can even be piped. What's not to love?
1 and 3/4 cups all purpose flour
1 teaspoon pumpkin pie spice (basically, cinnamon and ginger) 1 teaspoon sea salt
1 teaspoon baking powder
1/2 teaspoon baking soda
1/3 cup brown sugar (I used Truvia Blend Brown Sugar; Swerve would also work well)
1/3 cup agave nectar
1/2 cup apple butter
2 tablespoons vegetable oil
1 cup shredded or fairly finely processed carrots 2/3 cup fairly finely chopped pecans
Optional but recommended: 1 tablespoon bourbon
1 teaspoon vanilla extract
1/2 teaspoon almond extract
Cream Cheese Frosting (recipe follows)
Grease and flour a 6- or 8″ round cake pan. Preheat oven to 350 degrees. In large bowl, stir together all ingredients just until completely combined. Transfer into prepared pan, and gently smooth tip. Bake approximately 25 minutes for 8″ cake and 35 for 6″ cake or just until wooden pick inserted in center comes out clean. Cool 10 minutes on wire rack, run knife around edge of pan, and invert onto wire rack to cool completely. If making the 6″ two-layer cake, halve horizontally with a serrated knife. Frost between layers if making the layer cake, as well as top, and sides of cake. Decorate as desired with pecans. Serve immediately or cover and store in refrigerator. Best served at room temperature.
Cream Cheese Frosting:
8 ounces vegan cream cheese
1/3 cup agave nectar (or a little more to reach desired consistency)
1/2 teaspoon cinnamon
Optional but recommended: 1 teaspoon Bourbon
1 teaspoon vanilla extract
1/2 teaspoon almond extract
Decoration: toasted or plain finely chopped pecans and pecan halves
With an electric mixer, cream together all ingredients, except pecans, until fluffy. (Too little agave nectar may allow frosting to crack.)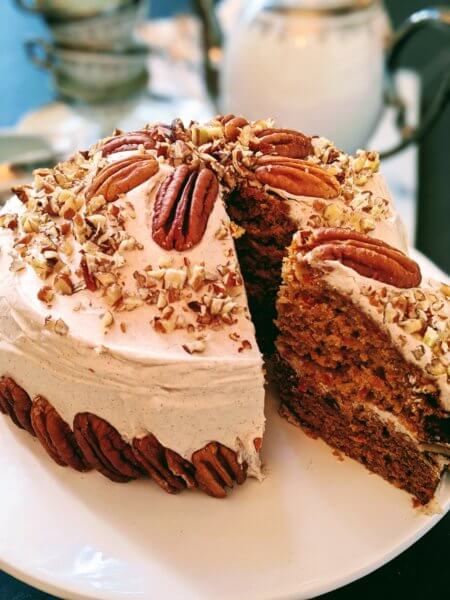 #vegan #veganrecipes #veganfoodshare #veganfoodporn #plantbased #plantbasedrecipes #plantbasedfoodshare #plantbasedfoodporn #vegancarrotcake #plantbasedcarrotcake #healthiercarrotcake #healthiercreamcheesefrosting